The Audi A8 is a top-tier super-luxury stunner that's peaceful indoors, powerful under the hood, and polished all around. After a premium five seater that crosses into another dimension of luxury comfort and performance? Well, this is it.


Get a closer look at the major capability and supreme style of the 2016 Audi A8 below.


2016 Audi A8: A World-Class Interior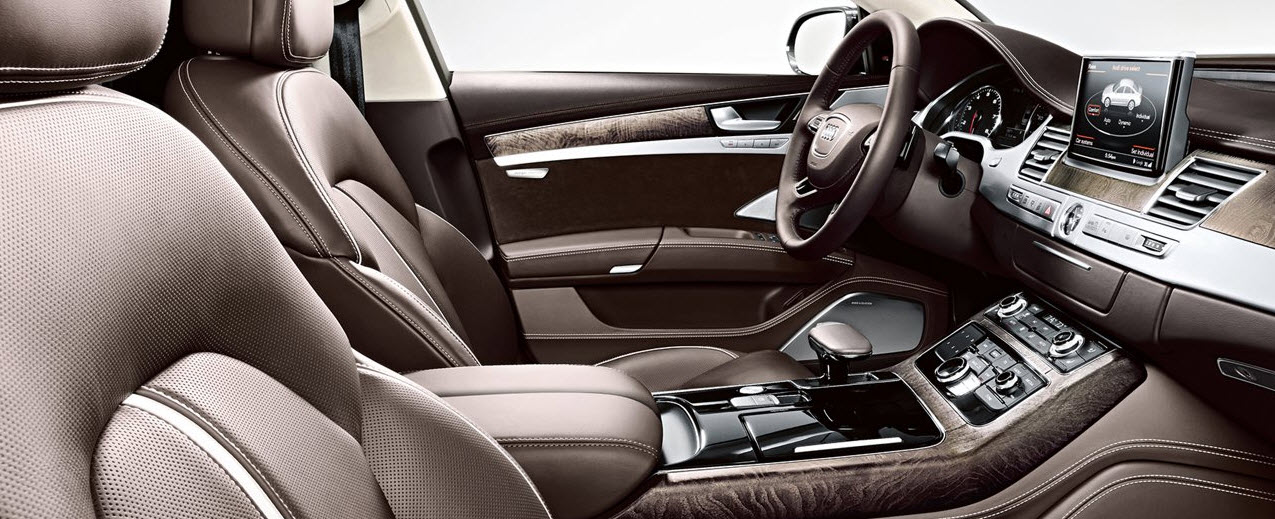 Those who slide into the spacious Audi A8 are greeted by a refined realm where comfort is captured in its highest form. Swanky leather upholstery, 18-way power adjustable seating, four-zone automatic climate control, and a standard sunroof are just a few of the niceties that make the inner A8 an outstanding place to watch the world go by.


Anywhere you choose to stretch out in the 2016 A8 is a treat. This supercar's five-seat capacity offers plenty of room to spare; you can just about guarantee that there won't be any personal bubble bursting even with three kiddos, or adults(!), lined up side by side.


Make the Most of Your Ride with Audi's MMI®
Equipped with Audi's famous MMI® navigation plus infotainment system, drivers have their pick of entertainment options across a variety of devices and services such as SiriusXM® and HD Radio™. The BOSE® 14-speaker surround sound system provides exceptional sound quality whether you're dropping beats or humming ballads.


Test drivers will instantly notice that Audi's latest MMI® version is a model infotainment platform. It manages to bring in cutting-edge connectivity tech without overwhelming users with complicated on-screen maneuvers. The Audi touchpad controller, where you can scrawl out a destination to send to the navigation system, is another neat and intuitive feature that comes standard on the A8.


In the Name of Handling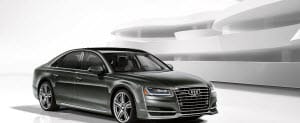 The base 2016 Audi A8 is powered by a 333-horsepower 3.0-liter TFSI® turbocharged V6 engine with lightweight ASF® aluminum construction. Also available is the larger, teeming-with-power 4.0-liter TFSI® V8 that generates up to 450 horses.
 
The A8's handling forte comes from its elite mix of well-refined performance elements. An eight-speed Triptronic® automatic transmission, Audi's quattro® all-wheel drive system, and an adaptive air suspension make an unstoppable trio. When all engaged, the supercar takes to twisting roads with total confidence, erases road flaws from the ride feel, for responsive, high-comfort handling that's truly hard to beat.


2016 Audi A8 Safety and Convenience Extras
The Audi A8 is also well equipped when it comes the area of safety. Between the standard front and rear parking sensors and the rearview camera, maneuvering this super-sized ride is a cinch. When storm clouds roll in and it starts to drizzle, the A8's rain/light sensor steps in to automatically activate the windshield wipers and headlights so you can continue on your drive with the confidence of a sunny day.


The 2016 A8 also has security on lockdown: The Audi advanced key is the ultimate in secure convenience offering drivers keyless start, stop, and entry.


Your Audi A8 Awaits!
The Audi A8 is a kingly cruiser with over-the-top performance and luxury. Ready for the next step in your A8 research? Head over to Audi Devon's online inventory to check out the A8's in stock and sign up for a test drive!