Some people in Devon, West Chester, and Conshohocken only want the best out of life, and that extends to their car. While there are several classes of car that offer exciting features, if you want one of the most attractive, luxurious vehicles on the road, then the only class for you is luxury sedans. However, before you can pick your next luxury car, it's a wise idea to learn more about one of the market's most exciting options: the 2017 Audi S8.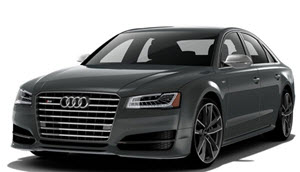 Read about the major features you'll get by driving the 2017 Audi S8, which includes amazing styling, impressive performance, and innovative tech features.
Audi S8 Review: Pick Fantastic Styling
The deciding factor for most consumers looking for a luxury car is the style that a vehicle possesses, and where some luxury cars can feel a little plain, the Audi S8 provides some of the boldest styling you'll find in this class. Take one look at this truly attractive car, and you'll never want to drive another luxury sedan.
The style points of the Audi S8 are both unique and aggressive, featuring such remarkable items as a large Single frame grille, LED headlights and tail lights, quad exhaust outlets, and signature Audi Sport 21-inch wheels. The Audi S8 is one of the most enticing vehicles anywhere on the road, and makes a superb choice for style-conscious consumers.
Use the Best Tech Features Available
If you're looking for a new model luxury vehicle, then you want to make sure that you get the most cutting-edge technology features possible, and this is an area where the 2017 Audi S8 delivers like no other luxury car.
Standard in the Audi S8 is an MMI navigation system so that you'll always know where you're going. In addition, driving the S8 means having access to Wi-Fi hotspot capability for up to eight devices, information about local traffic and weather, and an intuitive heads-up display that will make you feel like you're in a car from the future.
Audi S8 Review: Performance that Will Excite and Impress
What's the most important feature that a car can have regardless of class? If you're like many car shoppers, then your answer to this question is probably performance, and if you're looking for big performance there's almost no better luxury car to consider than the Audi S8. This is a vehicle focused on providing you the level of power you deserve no matter where you are.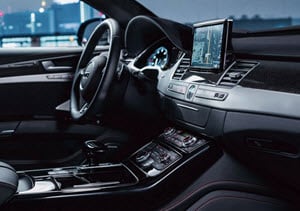 Check under the hood of the S8 and you'll find an outstanding TFSI engine that can output an unbelievable 605 horsepower and 553 lb-ft of torque. On top of that, this car comes equipped with Quattro sport all-wheel drive for total control whatever the condition of the road.
Test Drive the 2017 Audi S8
Any consumer in Devon, West Chester, and Conshohocken looking for the year's best luxury car need look no further than the Audi S8. Learn more about the exceptional 2017 Audi S8 by scheduling a quick, easy, and fun test drive today at Audi Devon.
Audi Devon is dedicated to assisting our customers find the right Audi vehicle for them, and we would be honored to work with you to find your next car. Visit us today to start shopping or contact us online to schedule a test drive!