Fast vehicles are thrilling. When you have a family, though, tiny speedsters aren't always the most convenient vehicle option. Luckily for you, recent innovations have allowed car manufacturers to pair the performance of a race car with the accommodations of an SUV.
One such example is the 2018 Audi Q5. With a fresh design in tow, numerous standard amenities, and electrifying boosts from the powerful motor, this automobile is nothing short of alluring. Plus, when you're driving through Devon, West Chester, and Conshohocken, you can rest assured that your vehicle will keep everyone at peace-even with your kids and dog in the back seat.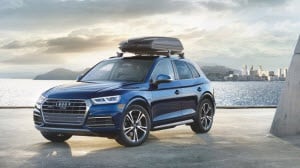 So, let's jump into the finer points of this exciting SUV by checking out this 2018 Audi Q5 review created by Audi Devon. Before long, you'll be pushing past twists, turns, and curves with the encouragement of this versatile vehicle.
Refreshed Exterior Design
When you're shopping for a luxury SUV, you definitely don't want a vehicle with a tired, outdated look. With the redesigned face and body of the 2018 Audi Q5, every inch of your new ride will feature the fine craftsmanship of any Audi vehicle, but with a rejuvenated appearance to keep heads turning and jaws dropping.
The front end of the Q5 is marked by a sleek, bold Singleframe® grille, and the shoulder lines of this SUV extend from the hood all the way to the tailgate.
In addition, the crisp outlines of the body include tons of extra appointments, such as LED daytime running headlights, LED taillights with modernized turn signals, and lifted wheel arches.
2018 Audi Q5: Select Innovative Technology
When you decide to purchase one of the leading vehicles on the market, you expect to have every cutting-edge amenity available, no matter what. While seated in the driver's seat of the 2018 Audi Q5, you're in store for an unparalleled technological experience.
To ensure that you remain at the center of all the action, the Audi Q5 features a dashboard with ergonomically placed controls for ease of movement when adjusting any of the settings. On top of that, the MMI® infotainment system offers up an optional 8.3-inch touchscreen with responsive icons.
Plus, Audi smartphone interface comes standard and quickly connects to Apple CarPlay™ and Android Auto™ for all your favorite entertainment. As if that weren't enough, standard Bluetooth® connectivity keeps you in touch with your friends and family while on the road.
To raise the bar in automotive technology even higher, the available 12.3-inch virtual cockpit lets you feel like the captain of your own ship. With a full view of important information, you can easily glance at your navigation screen with Google Earth™ and Google Street View™, or check your audio settings.
For even easier access to the tools you love the most, MMI® all-in-touch with handwriting-recognition technology allows you to write your commands rather than choosing from icons or using your voice. In addition, you can also use this touchpad to swipe around the maps of your navigation system.
Furthermore, Audi connect® allows you to select from a variety of information tools on the center console screen. This intelligent interface offers details on weather, traffic, and anything else you can imagine.
Being disconnected from your devices can be extremely inconvenient. That's why the Audi Q5 provides an available Wi-Fi hotspot for access to the internet from your smartphone or iPad.
2018 Audi Q5 Performance
When you're considering purchasing an SUV, you'll want to prioritize one category above all else: performance. If you're looking for a dominant ride, then your top choice is the Audi Q5. This SUV comes loaded with an array of devices that you can count on for heart-pounding acceleration.
Hiding under the hood of the 2018 Audi Q5 is an impressive 2.0L engine that pumps out 252 horsepower and 273 lb-ft of torque. For even more muscle, opt for the all-new 3.0L TFSI® turbocharged motor that delivers a profound 354 horsepower and 369 lb-ft of torque.
No matter which powertrain option you choose, you'll have more than enough influence to dominate any road.
To keep things stable, Audi's state-of-the-art quattro® all-wheel drive with ultra® technology constantly monitors road conditions and can engage all-wheel drive in an instant-500 milliseconds to be exact. That way, you'll never have to worry about slipping and sliding during an ice storm or any other type of weather. 
Part of staying engaged with your vehicle is having a variation of different driving choices. Fortunately, that's exactly what you'll find in the 2018 Audi Q5. Audi drive select comes standard and provides a collection of performance styles, such as Allroad, Comfort, Dynamic, and much more. With this tool, you can truly tailor your drive to fit your mood.
2018 Audi Q5 Review: Safety
Being armed with a suite of safety tools makes for a more confident ride. With the 2018 Audi Q5, you'll have everything you need to help keep you and your loved ones safe.
Audi pre sense® city comes standard and uses radar sensors to detect objects in front of your vehicle. The system will offer up a warning when it notices another car or pedestrian in your path. If corrective action isn't taken, your vehicle can engage the brakes to prevent a collision.
Moreover, Vehicle Exit Assist makes easy work of exiting your car on a busy city street. While the doors are opening, this gadget will monitor your surroundings and warn you if a cyclist or automobile is approaching. With this device, you'll always be kept in the know about potentially dangerous situations.
Hit the Road in the 2018 Audi Q5!
Audi Devon is proud to offer our customers a huge selection of premier Audi vehicles. When you visit our lot, we'll go above and beyond to help you find the perfect vehicle for you and your family.
Whether you want the most advanced technology, a comfortable ride, or any other feature, the newest version of the ever-popular 2018 Audi Q5 is the perfect choice for any driver of Devon, West Chester, and Conshohocken.
So, when you're ready for a capable SUV, head over to our showroom or schedule you test drive today!