The Audi S5 has continued to dominate the road ever since its creation in 2007. With a minimalist architecture and route-commanding engine, this coupe strives to move in a different direction than other high-end cars. The hallmark grille and sleek body saw a facelift this year with many additional curves and sharp lines.
Included in the redesign of the 2018 Audi S5 are compelling handling features and an updated interior outfitted with every technology a luxury vehicle owner could want.  
With so many nuances found in every detail on the body and in the cabin of this charismatic vehicle, you'll be sure to see these speedsters flying out of showrooms in no time.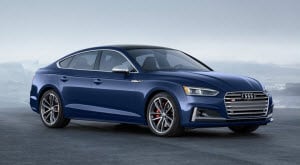 So, before this car escapes your reach, check out this 2018 Audi S5 review created by Audi Devon. Once you reach the bottom of this page, drivers of Devon, West Chester, and Conshohocken will find themselves craving a seat behind the wheel of this aggressive vehicle.
2018 Audi S5: Power That Propels You
The engine is the heart of any automobile. This couldn't be truer for the 2018 Audi S5. Its updated single-turbo 3.0L V6 motor pushes this car through tough terrains and gracefully guides it past the sharpest corners.
Pushing out 354 horsepower and 369 lb-ft of torque, this car prevails above its competitors and growls past the toughest roadway obstacles. Even with the eight-speed Tiptronic® automatic transmission, you'll have the feeling of an aggressive manual shifter. If you're a speedster, this vehicle will carry you to 60 MPH in a heart-racing 4.4 seconds.
For superior handling along any road, quattro® all-wheel drive provides intelligent stability and allows this coupe to clasp onto the asphalt. This device monitors the road as you drive and can engage the all-wheel drive system in a matter of seconds. That way, you'll never have to worry about slippery roads disrupting a peaceful ride.
When you're the captain of a luxury vehicle, you likely won't settle for just any ordinary driving personality. Luckily, the 2018 Audi S5 offers a selection of distinct driving modes to keep you engrossed along the road.
By pulling the steering wheel-mounted paddle shifters, you can choose from Comfort, Auto, Dynamic, and many more for a unique experience every time you drive.
2018 Audi S5 Technology Features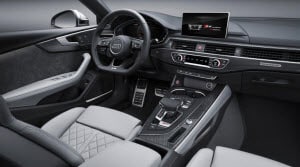 Whether you're looking for safety technology or the newest features in entertainment, the 2018 Audi S5 has it all. For a truly remarkable view of the road ahead, the virtual cockpit offers a 12.3-inch screen so you can access navigation tools like Google Earth™ and Google Street View™.
Plus, the MMI® infotainment system allows for access to all your most beloved entertainment and syncs to Apple CarPlay™ and Android Auto™. From the seven-inch touchscreen display, you can select from user-friendly icons and even connect to third-party applications.
On top of that, the Audi S5 comes with MMI® touch, which uses handwriting-recognition technology. This feature offers an alternative to selecting options on the touchscreen. 
This system also serves as a Wi-Fi hotspot for internet access on the go. That way, your friends and family can bring along their tablets, smartphones, and laptops without the risk of getting disconnected from the internet.
Additionally, this amenity also makes it easy for you to keep working or browse your favorite shops while waiting for your friend to arrive at your favorite restaurant.
Audi S5 Review: Safety Features
While you're having a blast flying along windy back roads, your 2018 Audi S5 is constantly monitoring your surroundings and keeping you in the know about dangerous situations.
For quick information at eye-level, the optional head-up display offers up data on crucial elements of your vehicle, including the road's speed limit and your current speed. That way, you don't have to glance down do check out the speedometer.
We all know that parking in a busy city can be tough. However, with the assistance of the standard Parking System Plus, your Audi S5 will sound alerts when you come close to another vehicle or object. With this tool, parallel parking just got a whole lot easier.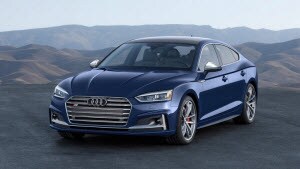 Moreover, Audi pre sense® city also comes standard and provides driver warnings when it detects another car or pedestrian in your direct path. If the system doesn't attempt to slow down or change the direction of your vehicle, this device will employ the brakes to reduce your speed.
2018 Audi S5: Detailed Design
Inside the cabin of the 2018 Audi S5, you'll discover a host of modified details.
The large wraparound dashboard welcomes you into your seat at the helm of this automobile and provides an ergonomic setup that encourages natural movements when you need to adjust a setting.  
The three-spoked, flat-bottomed wheel gives the driver a better handle on navigating the roads and hints at the racing ancestry of this brand. Of course, you can't drive a luxurious sedan without some form of customization. Ambient LED interior lighting presents a selection of 30 different colors, any of which gently illuminate the contours of the cabin. 
Premium Nappa leather covers the seats, center console, and armrests and keeps every drive cool and soft to the touch. With four-way adjustment, a massage setting, and side bolsters, the seats in the 2018 Audi S5 cradle the body for a comfortable ride after a long day of work or play.
As if that weren't enough, a slight raise of the eye will be greeted with the panoramic sunroof with views of the blue sky or nighttime stars from the front and rear seats.
Drive Home a 2018 Audi S5 Today!
After reviewing all the fine appointments included in the 2018 Audi S5, we're guessing that you're eager to take this coupe for a spin. At Audi Devon, we're more than happy to help you do just that.
Stay true to your adventurous personality and be the first of your friends in Devon, West Chester, and Conshohocken to get ahold of this vigorous vehicle. Stop by our showroom or schedule your test drive today!