The 2017 Audi A4 and 2017 Audi A6 are commuter-friendly companions offering Devon, West Chester, and Conshohocken drivers a sophisticated blend of style and performance. Although the 2017 A6 and Audi A4 share several similarities at first glance, a few subtle differences between them can make choosing the one best suited to your style difficult.
Which of these refined roadsters has the design, performance, and technology you're looking for? Check out Audi Devon's 2017 Audi A4 vs. 2017 Audi A6 comparison to find out.
Audi A4 vs A6: Design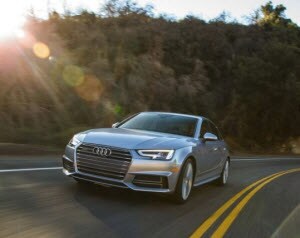 In terms of design, the 2017 Audi A4 and 2017 Audi A6 offer sophisticated carriages that look nearly identical.
Dramatic hexagonal Singleframe front grilles, available LED lighting, and sleek body lines come together to create tasteful exteriors exuding confidence and class. Each is shaped to slip through wind with sharp-looking rear bumpers and clean curves, though the A4's frame is more distinguished with angular accents and sloping shoulders.
2017 Audi A6 vs 2017 Audi A4 Dimensions
You can see the 2017 Audi A4 and 2017 Audi A6 are closely related with their aerodynamic silhouettes. However, the 2017 Audi A6 is 8.1 inches longer and 1.6 inches taller than the Audi A4.
The A6's wheelbase is also three inches longer than the A4's, translating to 1.1 more cubic feet of trunk space, 1.6 more inches of shoulder room up front, and 1.8 more inches of shoulder room in the rear.
That's not to say that the 2017 Audi A4 is cramped, as it provides 13 cubic feet of trunk space, 41.3 inches of front legroom, and 35.7 inches of rear legroom, which are competitive measurements in its class.
2017 Audi A6 vs 2017 Audi A4 Interior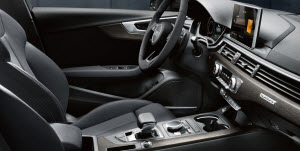 Few automakers contend with Audi when it comes to constructing luxurious, finished-looking cabins. The interiors of the 2017 A6 and 2017 A4 excel from the perspective of both comfort and craftsmanship, and are two of the latest examples of Audi's commitment to impeccable artistry inside and out.
Climb inside a 2017 Audi A6 or Audi A4, and you'll find a cabin beautifully crafted with seating for five passengers, leather seating surfaces, and tri-zone automatic climate control, topped off by large infotainment touchscreens that bring the world to your fingertips.
Each is also available with features like Audi smartphone integration through Apple CarPlayTM and Android AutoTM, HD RadioTM technology, and Bluetooth®, allowing you to stay connected while eliminating distractions behind the wheel. If you're seeking a sedan with premium craftsmanship, the Audi A6 and Audi A4 are both options worth considering.
Test Drive an Audi in Devon
If you're in the market for an Audi sedan, the A6 and A4 are both great options to consider. Audi Devon has an expansive selection of 2017 Audi A4s and 2017 Audi A6s to choose from, and we encourage drivers across Devon, West Chester, and Conshohocken to stop by our showroom and check out what we have in store.
If you're still on the fence between the 2017 Audi A6 and 2017 Audi A4, schedule dual test drives at Audi Devon today to put their interiors and performances to the test.