Have you been looking for a luxury sedan that is powerful, luxurious, and loaded with incredible features? The 2017 Audi A4 and the 2017 Mercedes-Benz C-Class are popular options in the Devon, West Chester, and Conshohocken areas for all those reasons. But how do you choose between the two?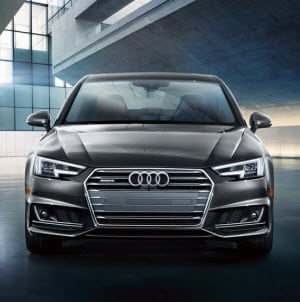 In this vehicle comparison from the team at Audi Devon, we'll look at two of the most important factors in your purchasing decision: vehicle performance and entertainment technology. Read the 2017 Audi A4 vs. 2017 Mercedes-Benz C-Class comparison below from Audi Devon. Then schedule a test drive with your favorite luxury sedan at your local dealership.
Performance Comparison: 2017 Audi A4 vs. 2017 Mercedes-Benz C-Class
The base trim level of the Mercedes-Benz C-Class, the C300, is powered by a 2.0L Intercooled Turbo Premium I4 engine that produces up to 241 horsepower and 273 lb-ft of torque. The engine is paired with the 7-speed automatic transmission with shift paddles. While this vehicle gets excellent acceleration, the transmission is a bit slower to shift than in most competitors, including the A4.
In comparison, the 2017 Audi A4 is powered by a 4-cylinder turbocharged/turbo fuel stratified injection (TFSI) engine. This produces up to 252 horsepower and 273 lb-ft of torque-a significantly higher power production than its competitor. The vehicle's top track speed of 130 mph is incredible and the A4 has an acceleration of 6.1 seconds (from 0 to 60 mph). With its fast acceleration and easy transitions between gears, the 2017 Audi A4 is a thrill to drive and ride.
Vehicle Entertainment Technology: 2017 Mercedes-Benz C-Class vs. 2017 Audi A4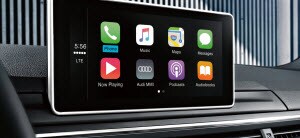 When you take a closer look at the 2017 Audi A4 and the Mercedes-Benz C-Class, you see a pretty significant difference in the vehicle's standard features in the entertainment and information categories. While the A4 is loaded with some of the most advanced systems on the market in the standard trim level, the C-Class requires significant financial upgrades to get similar features.
The Audi A4 offers an infotainment system that's super easy to use. The turn dial and buttons make it easy to control without taking your attention away from your driving. And the interface software is simple to navigate, even for those with little technology experience. The 8.3-inch color display is easy to read and beautiful to look at. On the other hand, the C-Class is missing out on some pretty standard technological features, which it does offer for a steep and significant investment.
Get Behind the Wheel of Your Favorite Vehicle
Both the 2017 Audi A4 and the 2017 Mercedes-Benz C-Class are popular vehicles, thanks to their beautiful design and style and plethora of advanced standard features. However, it's easy to see that one might be a better option for your next purchase.
Check out the 2017 Audi A4 at your local Audi dealership near West Chester and Conshohocken. Audi Devon offers a huge inventory of new vehicles for you to choose from, including the 2017 Audi A4. Get a closer look at the models available in our online inventory.
Are you ready to get behind the wheel of your next new Audi vehicle? Schedule a test drive at Audi Devon today!