The 2017 Audi A5 is sporty, stylish, fast, and equipped with the latest and greatest in safety technology features. Designed to keep you safe while you enjoy its full performance, the all-new A5 makes it easy for you to feel confident while driving around Devon, Conshohocken, and West Chester.
Safety in the Audi A5 Is Standard
The 2017 model of the sporty Audi A5 is equipped with a full suite of standard safety features for you to enjoy. These features aren't an upgrade; they're simply the ones you'll enjoy with the base trim level because safety shouldn't be an option. It's a standard.
Electronic Stability Control with Traction Control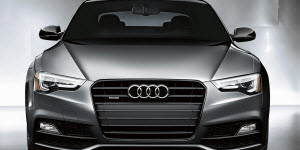 If you've ever taken a turn a little too quickly and felt a loss of control, then you know what the Electronic Stability Control system was designed for. By slowing the vehicle just a tad and even applying necessary braking power, Electronic Stability Control keeps you on your intended trajectory even if you accidentally over- or understeer.
The Traction Control system works with Electronic Stability Control to ensure that your vehicle keeps its best grip on the road to prevent you from losing traction around that tight curve.
Tire Pressure Monitoring System
Your tires are your vehicle's only point of contact with the road, and since they're inflated with air to give you the best ride quality possible, it's important that they stay properly inflated.
With the tire pressure monitoring system in the 2017 Audi A5, you can feel confident that you're keeping your tires in great working order at all times and that you're not going to lose control due to a flat tire. The system will let you know when you need to check one or more of your tires, giving you the opportunity you need to have the vehicle serviced before there's a serious problem.
Audi Advanced Key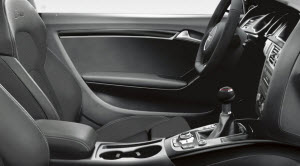 While having keyless start/stop entry may not immediately seem like a safety feature, it only takes one night of scrambling for keys in a dark parking lot to see why it could be a big help.
When it comes to your safety, and those of your passengers, you want to make sure that you can quickly and safely get into your vehicle and on the road as soon as possible without any hassle. And this system that's standard on the 2017 A5 can help you do that.
It's also nice for those cold mornings around Conshohocken, West Chester, and Devon when you want to warm up your car without freezing yourself.
Learn More About the A5
The 2017 Audi A5 is an incredible vehicle with a ton to offer today's buyer, and it's available right now at your local Audi dealer.
Audi Devon has a wide selection of new, used, and certified pre-owned vehicles for you to choose from in our online inventory. But you can learn more about the Audi A5 now with our 2017 Audi A5 vehicle review before you start shopping.
Have a question? Reach out to us online today!