Audi is known for its sleek, stylish, and high-end vehicles that operate at the pinnacle of performance and offer the very best in comfort, looks, and technology both in the cabin and under the hood. For a long time, the brand lagged somewhat behind competitors, but in the mid-90s, the release of the Audi A4 revitalized the brand. It was followed not long after by the A5, and between the two, these are sought-after vehicles in the luxury sedan and coupe sector.
Drivers in Devon, West Chester, and Conshohocken are well informed and discerning about their vehicles, and many want to know whether the new Audi A4 vs. A5 is right for them. Explore a breakdown of the features in the Audi A5 vs. A4, and learn which is set to be the next luxury vehicle of your driving dreams.
2017 Audi A4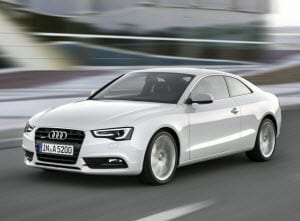 The vehicle that signified the rebirth of the brand, the 2017 Audi A4, is a distinctive automobile and the heart and soul of the Audi brand. This outstanding luxury sedan hits showrooms this year with a complete, head-to-tail redesign. It's larger on the outside and inside, offering more room and a broader wheelbase, but also lighter in weight to improve speed and efficiency.
It also brings new safety and infotainment features to the table; Android Auto™, Apple CarPlay™, keyless ignition and entry, rearview cameras, leather seating, and a sunroof are just a few of the great new features it offers.
2017 Audi A5
The 2017 Audi A5, on the other hand, carries over from 2016 largely unchanged. It's in its ninth year, with a full redesign coming in 2018. It still offers everything you'd expect from a classic Audi, including gorgeous styling and lines, a supercharged V6 engine that delivers outstanding acceleration, a transmission and suspension that offers exceptionally athletic handling, and a smooth quality of ride, all delivered in a quiet, luxurious, and serene cabin.
Audi A5 vs A4
In directly comparing the Audi A5 vs. A4, drivers who look for the cutting edge of luxury vehicles, or who prefer a sedan to a coupe, would be well advised to go with the A4 this year. It brings a wealth of high-end technology features to the table and is in its first year of a full redesign, which brings it in line with many other high-end sedans in the market.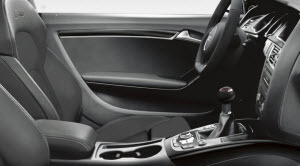 The A4 delivers an EPA-estimated 28 combined MPG fuel efficiency, and its 2.0L turbocharged 4-cylinder puts out 252 horsepower, which can go from 0 to 60 MPH in 6.1 seconds. There's also an all-wheel drive (AWD) option which hits 60 MPH in 5.3 seconds. Finally, the A4 Ultra model gives you the same engine with an EPA-estimated fuel economy of 31 combined MPG at the cost of some power (it gets only 190 horsepower and takes 7.1 seconds to reach 60 MPH).
Infotainment-wise, the base A4 gives you a CD player, dual USB ports, Bluetooth®, dual SD card slots, Android Auto™ and Apple CarPlay™, and a 10-speaker audio system, all powered by the MMI® infotainment system.
By comparison, the A5 is run by a supercharged 3.0L V6 engine. It gets 333 horsepower via a 6-speed manual transmission (a 7-speed automatic is optional). It comes with standard AWD with an option for sport differential. It goes from 0 to 60 MPH in 4.6 seconds, with a convertible model hitting 60 MPH in 5.3 seconds. It has an EPA-estimated fuel economy of 20 to 21 combined MPG.
The A5 delivers more power, but similar performance, and is in line with other coupes in the sector. While it does feature the MMI® infotainment system with iPod integration, Bluetooth®, and a 14-speaker sound system, there's no USB port or app integration.
Test Drive an A4 or A5 at Audi Devon
For drivers in West Chester, Devon, and Conshohocken, the question of whether to drive the Audi A4 vs. A5 comes down to preference. Both are outstanding entries in a well-regarded luxury manufacturer's line. To make the choice, why not stop into Audi Devon and get behind the wheel today?