In the realm of luxury small cars, few brands are known better than Audi and Mercedes-Benz. Quality, technology, performance, and design are just some of the reasons you've made your way to this vehicle comparison from Audi Devon.
Today we're looking at the 2017 Audi A5 Coupe and the 2017 Mercedes Benz C300 Coupe. In this Audi A5 vs. Mercedes-Benz C300 comparison, we'll look at vehicle performance and technology feature usability.
A5 vs. C300: Vehicle Performance Comparison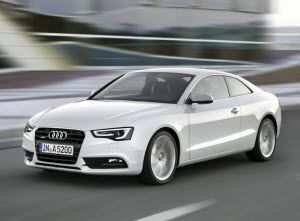 Right off the bat, we can see that there's a substantial difference between the 2017 Audi A5 and the 2017 Mercedes-Benz C300. While the two vehicles offer comparably powerful four-cylinder engines that are turbocharged, the Mercedes-Benz offers slightly more powerful. But that translates to only a 0.4-second slower acceleration speed from 0 to 60 mph in the Audi A5. So that's not a terribly large difference in the grand scheme of regular driving around Devon, West Chester, and Conshohocken.
[Read Audi Devon's full vehicle review of the 2017 Audi A5 Coupe]
The bigger difference is actually in the vehicles' drivetrains. While the 2017 Mercedes-Benz C300 may be slightly faster than its competitor, it comes standard with rear-wheel drive. So in the rough Pennsylvania winter months, you'll be more likely to skid, slide, and have trouble braking on the highways and especially on back roads.
However, that can be remedied by simply choosing the 2017 Audi A5, which is equipped with standard quattro all-wheel drive, a system that gives you the best possible handling in all weather conditions.
2017 C300 vs. A5: Technology Usability Comparison
Once you step inside these two vehicles, you'll immediately see a difference in how the two brands have dealt with technology. The Mercedes-Benz C300 offers a high-resolution dual-screen infotainment system and important information in an easy-to-use system with an intuitive, carousel-style central controller with a rotary knob.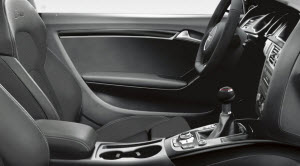 The C300 offers the standard FrontBass audio system with an underdash subwoofer and resonance chambers, so you don't have the typical speaker set up. At first, this may seem cool. But when you see the premium audio system with 13 speakers on the list of optional features, your opinion may change a bit to confusion.
On the other hand, the 2017 Audi A5 puts its best foot forward with a standard Bang & Olufsen sound system with 14 speakers and 505 watts of pure power. The system is controlled with the smart technology in the A5 cockpit that has buttons, a rotary knob controller, and a simple-to-use infotainment system with quick keys accessible right from the regular controller.
The A5 comes standard with a plethora of great infotainment features, including Audi music interface with iPod integration.
Choose Your Favorite: C300 or A5
No matter which two vehicles you're choosing between, the choice will always be difficult. But when it comes down to it, the 2017 Audi A5 is a smart choice. All-wheel drive and advanced technology for your convenience make choosing the A5 a win-win situation.
Check it out now in our online inventory, then schedule a test drive at Audi Devon.