The 2017 Audi A6 recently arrived at your local Audi dealer near Devon, West Chester, and Conshohocken, and it's already getting rave reviews thanks to its incredible suite of safety features. The previous year model of the Audi A6 was a 2016 Insurance Institute for Highway Safety Top Safety Pick+, which means you can expect the same from the 2017 model when it's rated later this year.
Let's take a look at some of the top safety features of the 2017 Audi A6 so you know what to look for when you take it for a test drive at Audi Devon.
[Read our full vehicle review of the 2017 Audi A6 here]
2017 Audi A6 Standard Safety Features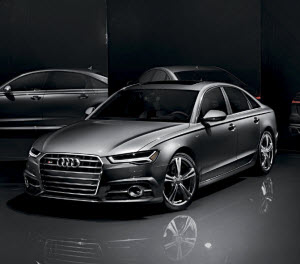 The 2017 model of the A6 comes with a full suite of incredible safety features that will give you the peace of mind you're looking for when buying a new Audi vehicle. These features include many you're used to seeing and a couple that might be new to you if you're new to the Audi brand.
The Audi A6 features Traction Control, Brake Assist, Electronic Stability, and an anti-lock braking system. These features are paired with others like the perimeter/brake lights that you might be less familiar with. The vehicle also offers a rear anti-roll bar, speed-sensitive steering, and four-wheel independent suspension that add to the vehicle's safety by keeping you in control at all times.
In terms of technology, the vehicle has several advanced safety features that make the Audi A6 one of the safest vehicles on the road, including high-intensity discharge headlights, Active Lane Departure warning system, a rear and front parking camera to give you a full 360-degree view of the vehicle, and a low tire pressure warning system.
Additional Safety Features to Choose From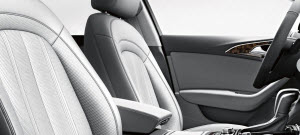 In addition to the excellent list of standard safety features that comes with the 2017 Audi A6, the vehicle has more options to choose from that can further enhance to its safety. Often called driver assistance features, the Audi A6 offers many features that assist you in being the best driver you can be.
The Driver Assistance Package offered in the 2017 Audi A6 includes Audi Active Lane Assist, Adaptive Cruise Control with Stop/Go functionality, Audi Pre Sense Plus, and Top View Camera System. These systems work together to give you the most information possible and help you to be the best driver possible with all of that information.
The Premium Plus Package offered in the 2017 Audi A6 offers even more great features that can add to the safety of your vehicle, including the Audi MMI Navigation Plus Package and Audi Side Assist with Pre Sense Rear. These systems make it easy for you to get the information you need without the distractions.
Get to Know the 2017 A6
The 2017 Audi A6 is ready for you to take it for a spin at your Audi dealer near Conshohocken, Devon, and West Chester. Audi Devon has several in stock right now with a range of options and safety features for you to choose from.
Schedule a test drive now and get behind the wheel of the all-new 2017 Audi A6.