Are you looking to purchase a luxury midsize car near West Chester, Conshohocken, and Devon? Both the 2017 Audi A6 and the 2017 BMW 5 Series are popular for buyers in the area thanks to their luxurious interior, exemplary performance, and ample comfort and convenience features.
Check out this 2017 Audi A6 vs BMW 5 Series comparison from your local dealership to see how the two fare when matched face to face.
BMW 5 Series vs. Audi A6: Standard Feature Comparison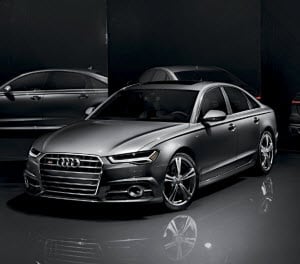 When you're buying a luxury vehicle, you want to make sure that you're getting the best bang for your buck. In the competition between the 2017 Audi A6 and the 2017 BMW 5 Series, the differences are slight, but they can make a huge difference in your everyday experience and your life financially. One of the major differences between these two vehicles is in their list of standard features.
The 2017 Audi A6 and the 2017 BMW 5 Series both offer amazing standard features. However, several features don't come standard on both vehicles. SiriusXM Satellite Radio, heated front seats, a universal garage door opener, keyless start, and a rearview camera are not standard in the 2017 BMW 5 Series. And so, getting those features will cost you a pretty penny since the BMW upgrade prices are steep.
Competing in Comfort: Audi A6 vs BMW 5 Series
When it comes to buying a luxury vehicle, size matters quite a bit because you don't want to be uncomfortable, and you don't want your passengers to feel cramped. The 2017 BMW 5 Series and the 2017 Audi A6 are both comfortable vehicles, but there are substantial differences in the vehicles' dimensions both on the exterior and interior.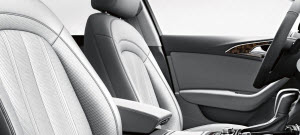 The exterior dimensions of your vehicle are important for driving around West Chester, Conshohocken, and Devon since parking spaces are tight and some of the back roads require a bit of nimble driving. The 2017 Audi A6 is slim and easily maneuverable with a total wheelbase of 114.6 inches, compared to the 120.7 inches of the BMW 5 Series. The A6 also offers a nice short length of just 194.2 inches and a width of 73.8 inches. The BMW 5 Series, though, is longer at 196.8 inches in overall length, and wider at 74.8 inches.
On the interior, the vehicles are comparable, but there are still differences. While both offer seating for up to five passengers, the 2017 Audi A6 has 41.3 inches of front leg room compared to the slighter 40.6 inches in the BMW 5 Series.
Test Drive the 2017 Audi A6 Today
While both the 2017 Audi A6 and the 2017 BMW 5 Series are beautiful vehicles, buyers looking for luxury, affordability, and comfort may be more content opting for the 2017 Audi A6. The vehicle is available right now at your local Audi Dealership near Devon, West Chester, and Conshohocken. Audi Devon has a huge inventory of vehicles, a friendly team of professionals to help you choose your favorite vehicle, and a financing team who can help you get the best terms available.
Start shopping for your next Audi vehicle in our online inventory now!