Official Collision Center of Audi Devon
 Classic Coachwork Main Line and Karosserie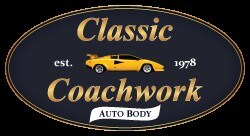 Classic Coachwork Main Line
228 E. Lancaster Ave.
Wayne, PA 19087
Phone: 610.687.799
Fax: 610.687.9096
www.classiccoachwork.com/main-line
 As the experts in Audi collision repair, Classic Coachwork should be your first choice. For over thirty five years, we have been specializing in high line automobile repairs. With 7 locations, in 3 counties surrounding Philadelphia, Classic Coachwork serves the entire Delaware Valley. Classic Coachwork is trusted by insurance companies and dealerships alike. Your automobile is a valuable investment, protect it! We guarantee the high quality repair your investment deserves.
Classic Coachwork has the qualified professionals that you need. Our refinishing procedures meet or exceed factory specifications, using factory recommended materials. All of our certified technicians use state-of-the-art equipment to restore your automobile to pre-accident condition. Our goal is an undetectable repair, rebuilt to factory specifications.
Our office staff will guide you through the insurance claims and rental car process. We welcome your questions and will share our knowledge, training, and experience to make your repair seamless.

355 E. Conestoga Road
Wayne, PA 19087
Phone: 610.995.9300
Fax: 610.995.1200
Aluminum vehicles require specialized equipment, tools, and talent to repair. Karosserie has been certified for Audi Aluminum since 1994. Based upon our reputation for aluminum repairs and coach building, Audi of North America chose Karosserie to be one of the country's seven authorized structural repair facilities for their prestigious all aluminum A-8 vehicle. Our factory-trained technicians had a three-year head start in this advanced design and repair technology.
Nationally recognized for its superior craftsmanship in traditional coach building, Karosserie has over 100 years of combined experience and an impeccable reputation for collision reconstruction. Offering the best in factory trained technicians, factory certified equipment, and authentic OEM parts allowing for the proper reconstruction essential for maintaining integrity and value. Karosserie's spacious facility for repairing European coachwork is extensively equipped with the most advanced frame, sheet metal and paint technology. Metal repairs are performed on one of seven frame benches while utilizing modern welding techniques and equipment. Our paint department includes preparation and priming booths, climate controlled spraying and baking booths, mixing rooms equipped with the latest computer information for matching the original urethane enamels, and rooms devoted to the final polishing of every vehicle.