When your time with your Audi lease is up, it's time for you to trade up for a brand-new Audi model to drive around Devon, Malvern, and Wynnewood. There's also plenty of other options for what you can do at the end of your lease, and our team at Audi Devon is here to help guide you through whichever option you choose, whether you're ready for a brand-new model, or you want to purchase your leased car and keep it forever.
Options for the End of Your Lease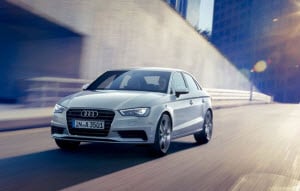 Whether you're ready to opt for something new, or you want to hold on to your lease for longer-or even purchase it-there's plenty of different options for you to consider when it's time for your Audi lease return.
Purchase: Make your Audi yours by purchasing or re-financing the vehicle! If you've fallen in love with the car over the term of your lease, you may want to keep it forever, and we can help make that happen.
 
You may even be eligible for a special lease-to-purchase pricing to make the car yours for an even better price. You also have the option to purchase an extended warranty for your vehicle, so it's covered for up to 100,000 miles.
Exchange: Swap in your current Audi lease for something new and exciting! You may qualify for Audi Owner Loyalty Incentives on your new lease, which can save you on your monthly payments for your new lease term. Audi provides lots of great perks for those who choose this option, and it's a great way to continue driving a brand-new Audi model every few years.
 Extend: Not quite ready to give it up? You can extend the length of your lease term as much as you want before you're ready to return the car.
Miles: Purchase additional miles for your lease.
Return: Drop your car off at our dealership and we'll set up all the necessary steps to end your lease. Before you set up your return appointment, you'll also want to have your vehicle thoroughly inspected at our service center.
 
Our technicians will check for any damage or undue wear and tear, ensuring that your car is ready to come back to us. Feel free to reach out with any questions you may have about your Audi lease return, and we'll help guide you through the process.
Schedule Your Audi Lease Return Today
If you're ready to end your Audi lease and opt for something new, or even purchase your leased vehicle and continue driving it for the coming years, contact Audi Devon. You can reserve a date and time to have your lease inspected by giving us a call or heading to the scheduling tool on our website.
If you're looking to trade in your current lease for a brand-new Audi, you can check out our new offerings by stopping by our showroom or checking out our inventory online. We can't wait to help you discover a new model that you love even more than the last!