When you're visiting the state of Pennsylvania, one of the towns you should be sure to spend some time in is West Chester. This community was founded in the late 1700s and is currently home to nearly 20,000 residents. Like many of the cities in Pennsylvania, West Chester is home to a variety of interesting historical sites that you should be sure to see for yourself.
Anyone who wants to get some sense of the long history of West Chester should take a stroll through the Downtown Historic District, home to classic architecture and several shops and restaurants. There are also a number of outdoor activities available in West Chester, including canoeing and kayaking.
Driving around West Chester is fun and easy when you have access to an Audi vehicle, and the best way to purchase one of these vehicles is with a lease. Find out how you can get a great Audi lease in West Chester, PA by visiting Audi Devon, and learn about our high-quality staff and inventory.
Getting a Lease
When you're interested in leasing an Audi vehicle, then you need to make sure that you're working with the right dealership. For customers in West Chester, the best dealership is Audi Devon in nearby Devon, PA. Our team is committed to serving you in whatever way possible, helping you find an Audi lease in West Chester, PA that meets your needs exactly.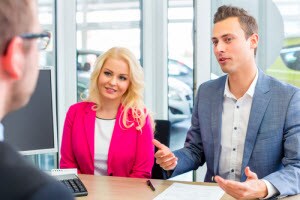 A great reason to lease an Audi vehicle from our dealership is having access to our huge inventory of high-quality vehicles. Choosing to lease means having access to cars that you may not be able to afford otherwise, and when you visit our lot, you can lease some of the best vehicles available today. You can even save big by visiting our Audi lease specials page to see what is currently being offered! 
Choosing a Dealership Staff
Choosing our dealership means being able to work with our dedicated staff. Our team is focused on service, and that includes our knowledgeable financing department. Working with our Audi Finance department means being able to get the lease that you need and the terms that you want. A financing professional can guide you through the leasing process so that it is easy and free of any stress.
Before you talk to our finance department about your lease, you need to find the Audi vehicle that's right for you, which is why you need to browse our lot with help from our helpful sales team. Then, if your leased Audi vehicle ever needs repairs or maintenance, you can visit our experienced service and parts department for help.
Find an Audi Lease in West Chester, PA
Your easiest solution for getting behind the wheel of an Audi vehicle is getting a lease, and the best way to find an Audi lease in West Chester, PA is visiting Audi Devon. Find the right vehicle and lease for their needs today!