The 2016 Audi Q3 is part of the luxury compact SUV class and popular with residents of Conshohocken, West Chester, and Devon. The beautiful design and style as well as the ample amenities are all part of what has made this vehicle so popular, but the advanced technology features it offers really sets it apart from the competition.
Here Comes the Sun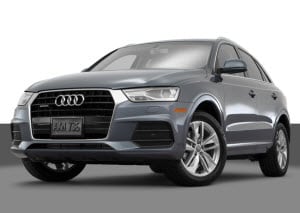 In the 2016 Q3, several features will make you and your passengers ooh and ah during your test drive, but the standard panoramic sunroof is one that will really change the way you see the sky. The beautiful new technology gives the Q3 an open and airy feel while letting you feel the sun on your face even while going for a drive. But don't worry, the standard dual-zone automatic climate control will keep you cool while you're on the go.
Stop on a Dime
Whether you're swerving to avoid a reckless driver or stopping quickly in stop-and-go traffic, having a full suite of safety features can be the biggest help for avoiding damage and injury in your 2016 Audi Q3. The vehicle offers a standard anti-lock braking system with Electronic Brake-Force Distribution and Brake Assist along with Electronic Stability Control with Off-Road Mode and Traction Control to help you maintain control at all times.
Drive with Miss Daisy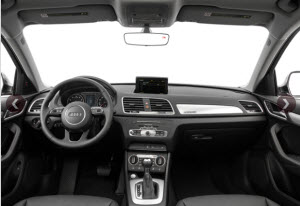 When you're driving on your afternoon commute, calling home, calling mom, or calling the office to ask about a project can mean getting distracted from your driving. But thankfully, with the communication technology in the 2016 Audi Q3, that won't be a problem. It comes standard with Bluetooth wireless technology preparation for mobile phone and features a voice control system so you can start and end your calls without getting distracted.
You Can't Stop the Beat
Staying entertained during long morning and afternoon commutes can be difficult, especially if you're running on low energy. With the 2016 Q3's standard Audi music interface with lightning adapter cable, SiriusXM Satellite Radio, and Bluetooth streaming audio, you can enjoy the full power of your smartphone and your vehicle on your drive. Your favorite tunes will be streamed through the Audi concert radio with 10 speakers.
See the Technology of the 2016 Audi Q3 in Person
If you're ready to get behind the wheel of your new luxury compact SUV near Devon, West Chester, and Conshohocken, check out the 2016 Audi Q3 at Audi Devon. We offer a huge inventory of vehicles for you to choose from in our state-of-the-art showroom. Our team will happily walk you through all of the vehicle's technology features and answer any questions you might have about how anything works or in which trim level each feature is available.
To schedule a test drive with a member of our sales team, give us a call at 877-399-1517 today.