If a 5-passenger luxury crossover is what you seek, the 2017 Audi Q3 and 2017 BMW X1 are two options hitting all the right marks. These refined roadsters offer exceptional comfort, advanced technology, and athletic performances, but do you know which one is best suited to your preferences?
Audi Devon compares the 2017 Audi Q3 and 2017 BMW X1 side by side to help Devon, Conshohocken, and West Chester drivers decide which one is a better fit for their driving needs. After reading our 2017 Audi Q3 vs. 2017 BMW X1 comparison, schedule to test drive your favorite vehicle.
2017 Audi Q3 vs 2017 BMW X1 Specs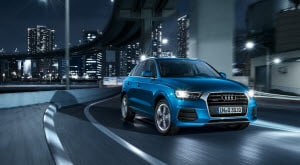 The 2017 Audi Q3 and 2017 BMW X1 are front-wheel drive cruisers delivering athletic acceleration and sharp handling. These fun-to-drive, sporty roadsters ride with confidence and control on highways, narrow city streets, and bumpy backroads alike, providing plenty of passing power and apt suspension systems that soak up most turbulence from uneven surfaces.
When you look underneath the hood of a 2017 Audi Q3 or 2017 BMW X1, you'll find vivacious turbocharged 2.0L 4-cylinder engines that ride neck and neck in horsepower. An 8-speed automatic transmission sends power to the 2017 BMW X1's wheels. The 2017 Audi Q3 opts for a 6-speed Tiptronic automatic transmission for sporty gear shifts and control.
For added traction and control, the 2017 Audi Q3 offers a quattro® all-wheel drive system, which sends engine power to the wheels with the most grip. The 2017 BMW X1 also offers an all-wheel drive system to help improve traction, but you'll be glad to have quattro® all-wheel drive when streets get slick around West Chester or Conshohocken, as it improves the 2017 Audi Q3's handling on unpredictable road conditions.
2017 Audi Q3 vs 2017 BMW X1 Technology
The 2017 Audi Q3 and 2017 BMW X1 offer several premium technology features. Wherever you're headed, the Audi Q3 and BMW X1 are designed to help you stay connected.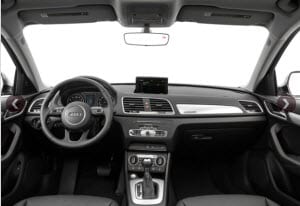 You'll find a long list of standard and available technology features available with the 2017 Audi Q3, including the MMI® Navigation plus with available Audi connect®, which enables Google Earth™ with 3D satellite imagery to get you to yoga class in Devon or that new restaurant in Conshohocken as quickly and efficiently as possible. It also enables a Wi-Fi hotspot, which means you can surf the web, post to social media, or send an email without draining your smartphone's battery.
The 2017 BMW X1 is also available with a navigation system and smartphone integration, but a WI-Fi hotspot isn't offered. This may not seem like a huge deal at first, but the 2017 Audi Q3's available Wi-Fi hotspot connects up to eight devices, which means each passenger can enjoy a personalized driving experience during long road trips.
Test Drive a 2017 Audi Q3 Today
The 2017 Audi Q3 and 2017 BMW X1 are excellent choices for luxury crossover shoppers. However, the only way to know which one is best for you is to get behind the wheel and test drive them yourself.
If you're in the market for a 2017 Audi Q3, schedule a test drive at Audi Devon today.