When you're in the market for your next luxury compact SUV, you want to know that its all-around capabilities meet your driving lifestyle. Luckily, the Audi Q5 is well-equipped to take your family on any vacation thanks to a powerful engine, spacious interior, and towing capacity.
Contact us today in regard to your Audi model's towing capacity.
To help you decide which Q5 is right for you, the automotive experts at Audi Devon put together this comprehensive guide to showcase the Audi Q5 towing capacity for drivers around the Malvern, PA, area. Continue reading to learn what this year's Q5 has to offer when it comes to heavier hauling and tow-ready features.
Engine Specs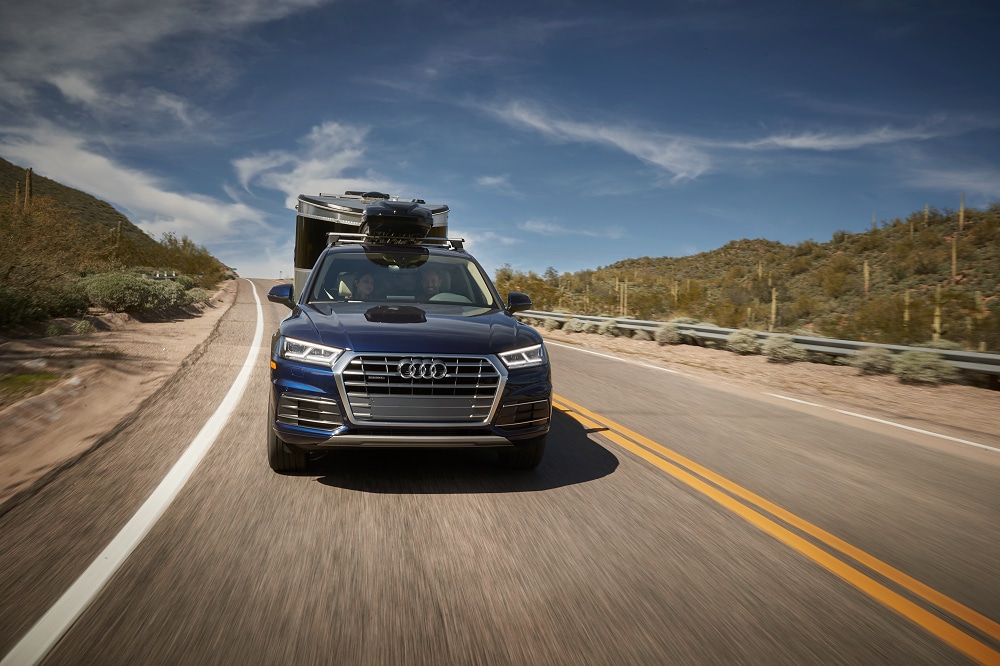 Audi provides two powerful engines depending on the model chosen. If you select the basic Q5, you'll receive a 2.0L 4-cylinder engine, while the SQ5 provides a boost to a 3.0L 6-cylinder engine. The standard 2.0L engine offers more than enough power; it generates 248 horsepower and 273 lb-ft of torque to carry all your luggage and anything you'd like to toss on the hitch.
Interested in financing an Audi model? Apply for Audi financing today!
If you regularly find yourself needing some additional thrust to pull you through longer drives down country roads, the 3.0L 6-cylinder is a good choice. This engine in the SQ5 produces a whopping 349 horsepower and 369 lb-ft of torque. With that kind of strength, no obstacle is too large to overcome wherever the journey takes you.
Check out our entire Audi Q5 inventory.
Towing Packages
While other automotive brands have available trailer packages for purchase, Audi fits every Q5 and SQ5 with the same tow-ready hitch. The Audi Q5 has a standard towing capacity of 1,650 pounds if your trailer doesn't have an independent brake system. When your trailer is equipped with its own brakes, the Audi Q5 towing capacity maxes out at around 4,400 pounds. So, take your 18-foot fishing boat to the lake and reverse easily into the boat launch.
Hauling Technology & Features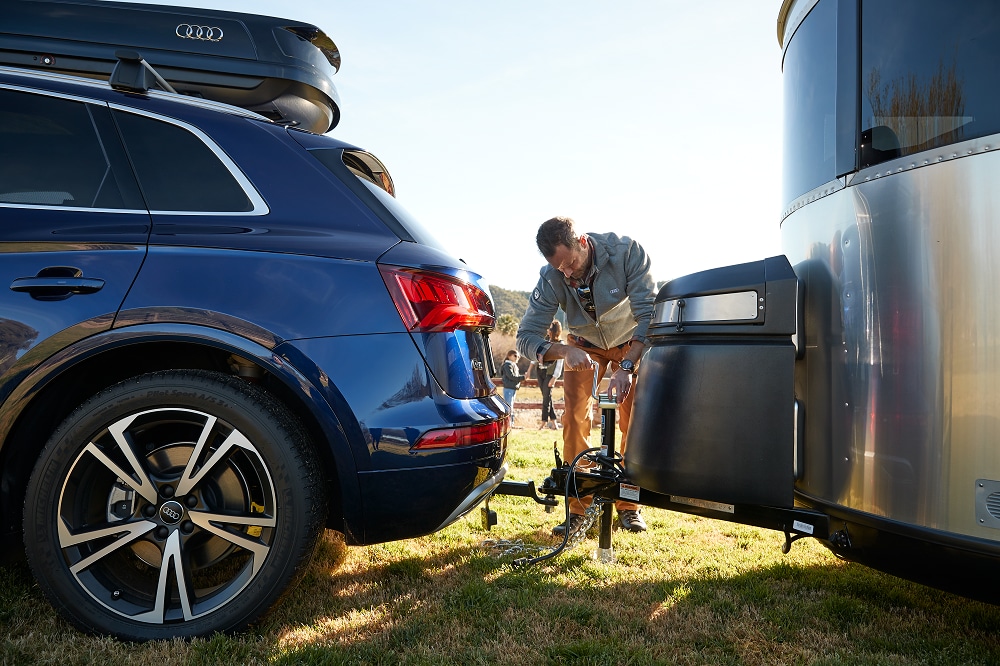 The Audi Q5 comes with an array of technology to assist you during your trailering experience. With Audi quattro® all-wheel-drive, you can expect your Q5 to tackle any terrain you throw it on. Mate that to the enhanced Electronic Stabilization Control (ESC) with Off-road mode and the Q5 is prepared for any slippery or debris-laden road.
To link up with your trailer perfectly, the Audi Q5 model's rearview camera comes with a trailer view. This feature will display a range in blue on the center-mounted multimedia display with an orange line signifying the expected path toward the hitch. Regardless of your experience with trailering, any driver can simply use the guidelines to attach the trailer every time.
Test Drive the Audi Q5 Today
With two powerful engine options, a standard factory-installed trailer package, and a suite of towing technologies, the Audi Q5 is capable for any on- or off-road adventure. It's high in-class towing capacity lets you take just about any size boat, camping, or moving trailer that you can think to-so hop in the cockpit and link up to get driving.
We at Audi Devon recommend that you take a look at all the offerings of the various Audi Q5 or SQ5 trims to find the fit for your driving needs. When you're ready to get behind the wheel, come down to our dealership to schedule a test drive in the Audi Q5 today.