Both the 2017 Audi Q5 and the 2017 BMW X3 are excellent vehicles. But when it's time to decide between the two, you really have to put them in a head-to-head comparison. And when you do, you'll see that there are some major differences.
That's exactly what we found when we compared these two well-known vehicles available at dealerships near Devon, West Chester, and Conshohocken. Take a look at what major differences we found when we put these two vehicles to the test.
The 2017 BMW X3 Falls Behind on Interior Dimensions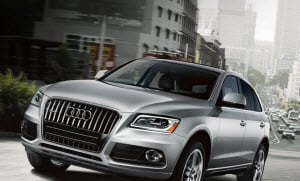 In a head-to-head competition, we can immediately see some differences between the Audi Q5 vs BMW X3. The X3 offers 39.9 inches of front legroom and 36.5 inches of rear legroom plus 56 inches of rear shoulder room and 67.3 inches of front shoulder room.
Compared to the Audi Q5, the X3 measures smaller all around, and that means less room to stretch out. The 2017 Audi Q5 offers an additional 1.1 inches in front legroom and 0.4 inches in front shoulder room. In the rear, the 2017 Q5 offers an additional 0.4 inches of shoulder room and nearly an inch of additional legroom.
These might seem like little dimensions, but when you add them up, it's quite a big difference in your comfort.
The 2017 Audi Q5 Wins with Excellent Handling
In terms of power and handling, the 2017 Audi Q5 and the 2017 BMW X3 are close. They're both equipped with a 258-horsepower 2.0-liter four-cylinder engine at the base trim level.
The real difference between in this category comes in the actual handling of the vehicles. The Audi Q5 is designed with quattro all-wheel drive technology, so it has a multi-link suspension in the front and the rear.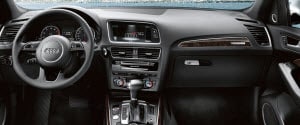 On the other hand, the 2017 BMW X3 is a sports activity vehicle that offers front suspension and rear multi-link suspension but not all-wheel drive. Instead, the X3 is equipped with rear-wheel drive, which means you're definitely won't go off-road with it, whereas you could with the Audi Q5. And even if you never do, it's nice to have options.
Test Drive the 2017 Q5 at Audi Devon
Buying a new vehicle is a fun and exciting adventure with a lot of choices for you to select from. Be sure you get the vehicle that has all of the features you're looking for. The 2017 Audi Q5 has a ton to offer with its incredible handling and plenty of interior room for you and your passengers to stretch out.
Check out the 2017 Q5 at your local Audi dealership near Conshohocken and West Chester. At Audi Devon, we have a huge inventory of new Audi vehicles in our inventory. You can see all of the models we have available right now in our online inventory. When you've found an Audi Q5 that meets your wish list, schedule a test drive at Audi Devon.