If you've been considering purchasing an SUV for driving around Devon, West Chester, and Conshohocken, then you've probably been looking at the 2017 Audi Q5 and the 2017 Lexus RX 350 closely. Both vehicles have quite a bit to offer today's buyer, including a stylish exterior design and style, and a plethora of luxury features available.
Check out how the two compare in this Audi Q5 vs Lexus RX 350 vehicle comparison from the team at Audi Devon.
Capability and Fuel Economy Comparison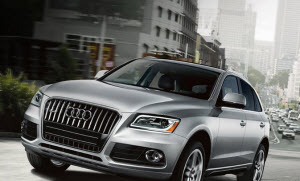 When you're comparing two SUVs, there are only a few factors that are going to make a difference to most buyers. Two of these factors, capability and fuel economy, are at play when comparing the Q5 and the RX 350. Let's take a closer look.
Capability in the 2017 Lexus RX 350 vs. the 2017 Audi Q5
The 2017 Lexus RX 350 is a powerful vehicle that falls into the Sport Utility body style. With its V6 engine and front-wheel drive, the RX 350 is fast and fun to drive. However, as bad winter weather quickly approaches, you may wonder why the vehicle doesn't come standard with all-wheel drive like its competitor.
The 2017 Audi Q5 does come with a standard turbo I4 engine, but it's also equipped with quattro® all-wheel drive-a system that gives you incredible driving capability even in the roughest winter weather. Altogether, the Q5 is not only fast, but it's got the handling you need to take on snow, sleet, ice, and heavy winter rains.
Fuel Economy in the Audi Q5 vs Lexus RX 350
In terms of fuel economy, the Q5 and the RX 350 both get about an EPA-estimated 20 mpg in the city and 27 mpg on the highway, despite the major differences in capability and power.
Standard Feature Comparison
Another major point of comparison between the Lexus RX 350 and the Audi Q5 is what standard features the vehicles offer, because that says a great deal about the value you're getting in your next luxury SUV purchase.
The 2017 Audi Q5 comes with some incredible features, including a dual moonroof with power tilt and slide, a luggage rack on the roof, all-weather tires, and HID headlights. The 2017 Lexus RX 350 doesn't offer any of these as standard features, and some of them may not be available at all. Other features you'll miss out on as standards in the RX 350 include a rear A/C system and leather seating.
Schedule Your First Test drive
The 2017 Audi Q5 is a powerful, stylish, and well-equipped vehicle that would make an excellent purchase for drivers near West Chester, Conshohocken, and Devon. Thanks to its quattro® all-wheel drive, its excellent list of standard technology features, and the abundant options to choose from, it's easy to make the Q5 your own.
Check out the 2017 Audi Q5 in the online inventory at your local Audi dealer. Then schedule a test drive at Audi Devon to see if it's the right fit for you.
ow in just a couple of minutes. That's just one more way the team at Audi Devon is making automotive service as easy and convenient as possible.
Are you ready to schedule a transmission service near Devon, PA? Schedule online now at Audi Devon.