The 2017 Audi Q5 and the 2017 Mercedes-Benz GLC are two popular vehicles on the market right now in the West Chester, Conshohocken, and Devon area. Both vehicles offer luxury, style, and design that surpasses your expectations. But the two vehicles are very different in their performance, and on the value they offer.
So, let's look at how the two match up in this 2017 Audi Q5 vs. Mercedes-Benz GLC comparison. When you're ready, take a closer look at your favorite model at your local dealership.
Performance Comparison: 2017 Audi Q5 vs. Mercedes-Benz GLC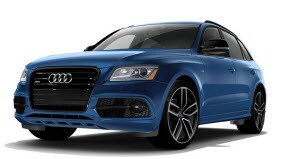 In terms of performance, both the 2017 Audi Q5 and the Mercedes-Benz GLC offer a thrilling performance. However, we would be remiss if we didn't state the glaring differences between the two. Both are powered by a turbo I-4 engine with an automatic transmission with manual mode-that's where the similarities end.
With Rear Wheel Drive (RWD), the 2017 Mercedes-Benz GLC provides a nice driving quality. With the strut font suspension and multi-link rear suspension, the ride quality is decent, but what if you could have more than "nice" and "decent"?
The 2017 Audi Q5 comes standard with All-Wheel Drive (AWD), which means you can drive in even blistery weather conditions and still maintain the incredible driving experience. With multi-link suspension on both the front and rear axles, you'll barely feel the bumps on the road at all as you cruise through your morning commute.
Mercedes-Benz GLC vs. Audi Q5 on Standard Features
When you're shopping for an affordable car, you expect limited standard features. However, when you're investing in a luxury compact SUV like the Audi Q5 and the Mercedes-Benz GLC, you should expect an abundance of advanced features in the base trim level. That's exactly what you find when you look at the 2017 Audi Q5.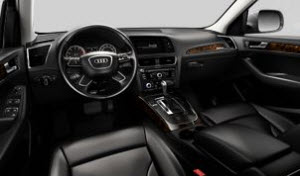 The vehicle comes standard with a dual sun/moon roof with power tilt and slide, so you can enjoy the beautiful night sky or the warmth of the morning sun. The vehicle's compact spare tire is also standard, so you'll never be stranded with a flat. Fog lamps ensure you can see even in bad weather, and a luggage rack makes it easy for everyone to spread out without slimming down on packing. With SiriusXM Satellite Radio and luxury leather seating you can sit back and enjoy your listening experience from anywhere.
None of these features we just mentioned are standard features on the 2017 Mercedes-Benz GLC. Instead, you'll have to invest in a mid-level trim option that may push the boundaries of your budget.
Schedule a Test Drive of Your Favorite Model
Take a look at the vehicle that offers it all at a fair price. The 2017 Audi Q5 is stylish, versatile, and can take on any adventure you imagine. Get a closer look at the vehicle in the online inventory at Audi Devon. As your local dealer near Devon, West Chester, and Conshohocken, we have a wide selection for you to choose from.
Start shopping for your next 2017 Audi Q5, then schedule a test drive at Audi Devon.Learn more about the 2017 Audi Q5 by reading our detailed vehicle review.