The 2017 Audi Q7 has finally landed at Audi dealerships near Devon, West Chester, and Conshohocken and it's stunning. Offering advanced technology, enhanced interior detailing, and safety features that are all new, the vehicle is one of a kind.
To help you get to know the vehicle, the team at Audi Devon has put together this in-depth Audi Q7 review. Check it out now then schedule a test drive at your local Audi dealer.
Audi Q7 Review: Performance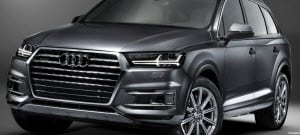 One of the best features of the 2017 Audi Q7 is its incredible performance. Whether you're new to the Audi family, adding to your collection, or replacing an older model, you'll quickly see the difference in the 2017 model. The vehicle comes standard with a supercharged V6 engine that produces up to 333 horsepower and 325 lb-ft of torque. For reference, this vehicle has a top track speed of 130 mph and a 0 to 60 mph acceleration speed of just 5.7 seconds.
With the available Towing Package, the Q7 can pull up to 7,700 pounds. Basically, that means you can haul a toy trailer and take your entire family on an incredible vacation and still have plenty of power to fly through your morning commute.
Audi Q7 Review: Safety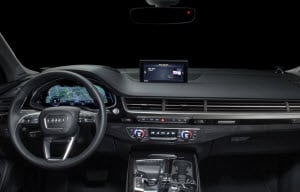 The 2017 Audi Q7 has been named a 2016 Top Safety Pick+ by the Insurance Institute for Highway Safety in the Large SUV division. It also received a first place award in Chariots of the Dads in the Car and Driver Comparison Test. But what does that mean for you and your passengers? It means the vehicle is equipped with state-of-the-art safety technology that offers best-in-class safety.
The standard Q7 offers safety features such as Electronic Stability Control, a tire pressure monitoring system, and an anti-lock braking system. However, the vehicle offers additional safety features, including the Head-Up Display with navigation and assistance systems information, a top-view camera system, and a parking system that can all advance its safety as well as those standard features.
Schedule a Test Drive
After reading this Audi Q7 review, are you ready to get behind the wheel? It's available right now at your local Audi dealer near Conshohocken, West Chester, and Devon. Audi Devon offers a huge inventory of new, used, and certified pre-owned Audi vehicles for you to choose from in our beautiful showroom. We're centrally located at 222 West Lancaster Avenue in Devon, PA.
Our friendly team of sales professionals is available during our regular showroom hours Monday through Thursday from 9 am until 8 pm, Friday from 9 am until 6 pm, and on Saturday from 9 am until 5 pm to guide you through the entire car buying process.
To schedule a test drive of the all-new 2017 Audi Q7 at Audi Devon, give us a call at 877-399-1517 or shop our online inventory now.