The 2018 Audi Q7 is one of the best SUVs you can buy to drive around the streets of Devon, West Chester and Wynnewood. Its sleek and elegant design, coupled with its stunning performance, can provide a driving experience like no other. If you want to keep that going for as long as possible, you need to keep your Q7 in top condition. There's no better way to take care of your favorite SUV than putting it on a reliable maintenance schedule.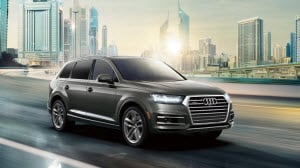 Preventative maintenance is an important aspect of caring for any kind of vehicle. Like all things, service will eventually be required, so you need to make sure the serious issues are corrected before they happen. To do that, you need to address the small issues with the same urgency. Don't worry if this sounds tedious or complex. Our 2018 Audi Q7 Maintenance Schedule makes the whole process easy.
Services Required Every Visit
Don't neglect your oil changes as old oil can seriously damage your engine. Over time, oil becomes corrosive and can wear down your engine block, performing the exact opposite function it's there for.
You need to get your oil and oil filter changed about every 6 months or 5,000 miles. Don't forget the oil filter too, as dirty oil can be just as dangerous as old oil. When you get your Q7 serviced at Audi Devon, you can be sure that our highly trained service professionals won't forget the filter. In addition to this, you should consider getting your tires rotated, too. If you don't do this every 6 months, at least do it every year.
15,000 Mile Service
Along with the normal oil and filter change, your technician should start regular inspections of your brakes, belts and hoses. It's not entirely uncommon for your brake pads to be worn down at this point, depending on how you drive, so don't be surprised if they need to be replaced.
30,000 Mile Service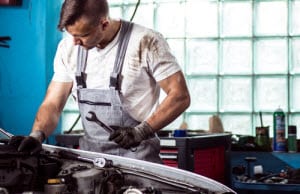 At this point, your engine air filter and cabin air filter probably need to be replaced. Also, make sure you check the wear on your tires. They may need to be replaced entirely. This is also a good time to check your warranty. You're probably over halfway to the end, so make sure you're getting everything checked and repaired before it expires.
55,000 Mile Service
It is also common for certain aspects to deteriorate, including drive belts, hoses, motor mounts and suspension bushings. Make sure you get all these inspected and replaced if necessary.
75,000 Mile Service
In addition to all the parts affected by the 55,000 mile service, your shock absorbers/struts need to be replaced. You should also make sure you don't have any fluid leaking. Get your fluids flushed and replaced just to be sure.
Servicing the 2018 Audi Q7 at Audi Devon
When you come to the service department at Audi Devon, you can be sure that you're getting the best service possible. Our expert technicians know exactly how your Q7 works and can handle every service on your maintenance schedule as well as any major repairs that might come up in the future. Take care of your SUV and don't forget the 2018 Audi Q7 maintenance schedule. Visit us or call (888) 482-0395 to schedule your service appointment today!