Keep reading to learn about some of the most advanced systems in the all-new Q7.
[Read our full vehicle review of the 2017 Audi Q7 here]
Audi Active Lane Assist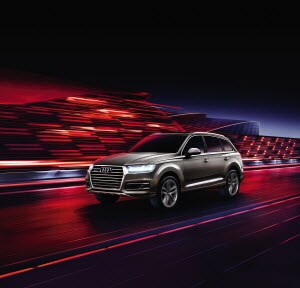 This available feature in the 2017 Audi Q7 is designed for the everyday driver who may get a little distracted in the crazy traffic we drive through. If you've ever been accused of not using your blinkers, this system will train that right out of you. If you try to leave your lane without signaling, the vehicle will give you an audible alert. And if you drift out of your lane because you're sleepy or distracted, the vehicle will gently steer you back on course.
This system is extremely helpful for the morning commute, when we sometimes get a little too eager to get off the interstate and may try to change lanes before checking our blind spots. The system will check for you and let you know whether that's a good move.
Audi pre sense city
This feature uses advanced technology to detect vehicles and pedestrians around your Audi Q7 when you're driving up to 52 mph. If a person or vehicle is in your trajectory, pre sense city will alert you to the danger of the potential collision, apply braking pressure, and reduce the vehicle's speed up to 25 mph, all in an effort to prevent or minimize the damage of a collision.
This system is, of course, exceptionally helpful for Devon, Conshohocken, and West Chester drivers who are often driving in residential areas where there's a high risk for low-speed collisions. This system can help you to avoid a car coming out of a driveway or a kid running into the street to grab a stray soccer ball.
Traffic Sign Recognition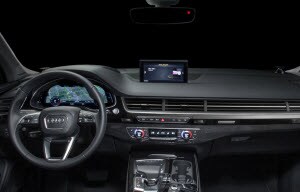 This all-new technology in the 2017 Audi Q7 is designed to let you know exactly how much time you have before the red light you're stopped at turns green. The available feature taps into traffic signs and can even detect other signs like school zone and construction zone signage and information to give you everything you need to be a well-informed driver.
This system displays the information on your Audi virtual cockpit and can make it easier for you to take that red light to check on a kiddo in the rear seat who dropped their toy again or whether you have a stray moment to tune into your favorite morning show on your way to work.
Night Vision Assistant
Driving at night has never been safer than with the Night Vision Assistant technology available in the 2017 Audi Q7. This feature uses both an infrared camera and thermal imaging to detect pedestrians, animals, and other slow-moving living objects even in the lowest light situations.
By giving you this vital information, the Audi Q7 makes it safer than ever to take the new baby for a soothing nighttime ride through the neighborhood or to drive through the annual holiday light show without worrying that you're going to hit something you can't see. This system detects animals and pedestrians within 300 feet, so you know what's out there even if you can't see it.
Schedule an Audi Q7 Test Drive
The 2017 Audi Q7 is incredibly advanced from its safety technology to its infotainment system. Learn more about the vehicle at your local Audi dealer when you take a Q7 test drive at Audi Devon. Give us a call at 877-399-1517 to schedule a test drive or stop in to our showroom today.