If you're in the market for a family-friendly luxury SUV, then the 2017 Audi Q7 and the 2016 BMW X5 are likely at the top of your list. Both vehicles offer an excellent reputation for quality, performance, and stunning design.
So which model is the right one for your next new car purchase near Devon, West Chester, and Conshohocken? That's what Audi Devon has found out for you in this Audi Q7 vs BMW X5 comparison below.
Audi Q7 vs BMW X5: Cabin Comparison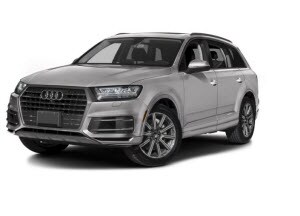 If we look at the interior of the Q7 and the X5, we immediately see some major differences in their logistics. The 2017 Audi Q7 offers seating for up to 7 passengers standard, and its rear passenger area makes it exceptionally comfortable for all of your passengers.
The seating setup in the Audi Q7 features two comfortable heated power-adjustable front seats, a second-row seat with latch and tether anchors for the kiddos and sliding adjustments for each of the three seats, and a third-row 50/50 split, power-folding third row seat for 2. Other exceptional standard interior are the panoramic sunroof and leather upholstery throughout.
The BMW X5 comes standard with seating for up to 5 passengers. It also includes standard power heated front seats, but leather upholstery is only available as an upgrade.
Also available only as an upgrade is that optional third-row seat. While it does take the seating capacity up to 7 passengers, it comes at a pretty steep price and will cost you valuable cargo space in the rear.
BMW X5 vs Audi Q7: Performance Comparison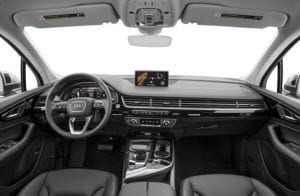 Any time you're comparing two vehicles, you want to look at how they match up in terms of power. And if you compare the Audi Q7 and BMW X5, you'll see some substantial differences. The Audi Q7 offers stunning performance in all kinds of driving conditions, a large fuel tank, and exceptional EPA-estimated fuel economy.
Under the hood, the Audi Q7 sports a 3.0-liter supercharged V6 engine that produces up to 333 horsepower and 325 lb-ft of torque. This engine has an EPA-estimated fuel economy of 19 mpg in the city and 25 mpg on the highway. With all-wheel drive, this quattro sport utility vehicle will serve you well on the roads around Conshohocken, West Chester, and Devon.
Under the hood of the BMW X5 you'll find a much different story. The vehicle has a 300-horsepower turbo I-6 engine that produces just 300 lb-ft of torque. And the sports activity vehicle comes standard with rear-wheel drive, which means you'll have to pay for serious upgrades to get the same capabilities as the Q7.
Dare to Compare the Q7 and the X5
Both vehicles have a lot to offer today's buyer. But if you're looking for a vehicle that's as powerful as it is beautiful, then test drive the 2017 Audi Q7 at Audi Devon today. Get started now by shopping our new Audi inventory or learning more about the Audi Q7 by reading our vehicle review.