Fall is just around the corner, so we decided to get in the spirit and share the best orchards and farms for fresh fruits and veggies in and around the Main Line. Check it out now and be sure to make a plan to stop over and get some delicious you-pick items this season.
Highland Orchards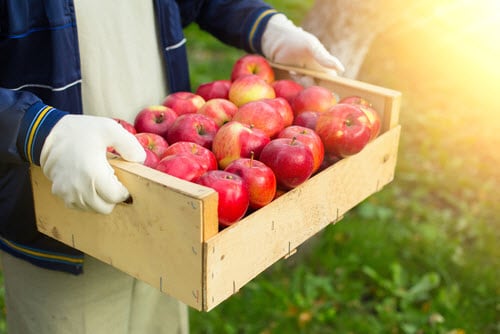 Offering a variety of apple offerings, including Summer Rambo, Ginger Gold, Gala, and Honeycrisp, from now until September 5, Highland Orchards has quite a bit to offer even in the summer months. But beginning on September 12 and straight through until Halloween, you can pick your own deliciously ripe fall apples at Highland Orchards, including Red Delicious, Macintosh, Golden Delicious, Fuji, Granny Smith, and Pink Lady apples.
During their fall you-pick dates, you can take a hayride with the whole family and the kiddos can enjoy the Kid Korrall for a fun family-friendly day on the farm. Weekend apple picking means you get a free ride to the fields on the complimentary shuttles, and you get to enjoy the beautiful scenery the farm has to offer.
Linvilla Orchards
Well-known in the Main Line area for their incredible produce kitchen and fresh herbs in their farm market, Linvilla Orchards is a 100+-year-old, 300-acre family farm that focuses on agriculture, education, and entertainment.
The farm offers you-pick year-round it seems, but their apple picking is one of their most popular events. For their love of apples, the farm hosts an Apple Festival & Pie Eating Contest each year in September, and this year it falls on the 24 and 25. This free event is a great chance to check out the farm.
Apple picking on its own starts around early September with Honeycrisp, Gold Rush, Granny Smith, Fuji, Pink Lady, and more, and you can get them all when you stop by the farm. Overall, the farm grows 30 varieties of apples for eating and cooking, so picking your own can be great fun for the whole family. Check their website to see what current picking conditions are at the farm.
Sugartown Strawberries
While technically not an orchard, we thought we'd mention one of our local Main Line farmers who has a special place in our hearts. Sugartown Strawberries is one of the best places to get fresh strawberries, pumpkins, squash, and more. So if you're looking for perfectly ripe pumpkins, gourds, tomatoes, or corn this fall, check out this local farm.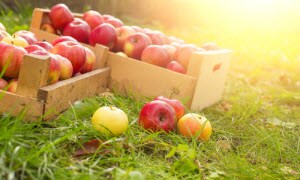 The farm also offers a huge field of sunflowers where they grow several varieties in different sizes, colors, and durability levels. You can pick up a fresh bouquet of freshly cut flowers every day for just $10, which is not just a deal but a great way to support your local farming community.
Longview Farm
Formerly known as Willow Creek Orchards, the Greener Partners' Longview Farm has 120 acres of farmland that has been carefully preserved over the years. Specializing in practicing sustainable and organic methods, the farm offers fruits, vegetables, livestock, and education for the local community near the Main Line. In addition to offering year-round activities for you to join in on, the farm has an excellent you-pick or pick-your-own program from early summer to late fall.
Right now, the farm is offering popcorn, hot peppers, flowers, cherry tomatoes, soy beans, herbs, and ground cherries. And this fall they'll be offering Asian pears, apples, popcorn, and pumpkins. With a truly fair pricing method and a cool mailing list, you can easily and affordably get fresh produce from this local orchard and farm.