When we asked the team at Audi Devon how they take care of their furry family members, every pup owner said they regularly take them to a groomer on the Main Line. And there are a few names that consistently came up in our discussions as the best in the business.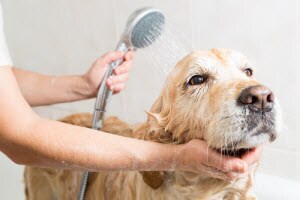 In an effort to make pups everywhere as happy as possible, we decided to share one of our most prized secrets: our dog groomers.
Groomed with Love
As a local business, we enjoy finding other local Main Line businesses to support. That's why we love I Love Dogs Pet Grooming.
As a family-owned business, Bob and Theresa make every pet they care for feel like family. So when we work with this pup-loving duo, we get to feel like family too. With over 40 years of experience, pickup and delivery service, and high-quality products and service, this local groomer is a top pick for anyone who loves their pooch.
Sheared for Show
Back in 2013, a dog named Charles was cruising the streets when local onlookers accidentally mistook him for a lion. The Labrador Retriever had simply been groomed to look that way, with a "mane" that, combined with his coloring, simply made him look like a lion. But that taught us a valuable lesson in the importance of proper grooming.
That being said, when we're looking for a groomer with some showmanship knowhow, we go straight to Kimie's Animal Art. Trained in Japan in the art of show cutting, owner Kimie Kobayashi has the skills to groom your pup into a shining example of a perfect pure-bread pup.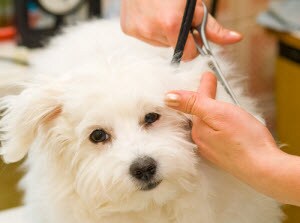 With over 30 years of experience as a pet groomer and more than 20 years on the Main Line, Kimie has been creating animal art for our pups and in our hearts. There's no one we trust more than this local business for our show grooming needs.
Unleashed Spa Treatment
Dropping off a pup off at the groomer can be a little like dropping off your toddler at kindergarten for the first time. Or at least, that's the experience a lot of us have had we left our tiny ones at the local groomer. And while it may not seem like a big deal to us humans, to get a haircut, the sound of those trimmers close to your ear can be a little bit scary.
That's why we don't take any chances with the hearts of our furry children. We take those with nerves straight to the team at Unleashed Pet Spa & Boutique. Their entire philosophy is different than many other groomers; it's cage free to the max. In fact, your furry friend will rest comfortably in the Doggy Dressing Room, complete with toys and a comfortable bed while they wait for you to pick them up. And because the team will treat your pets as if they were our own, you can feel comfortable leaving your tiny nervous or large bashful pup with the loving hearts at this Main Line groomer.
Pampered Pups Welcome
As the proud and pampered owners of Audi vehicles, we understand the importance of a little luxury in your life. And while many of our team members are looking to save a little cash during their grooming trips, several insisted that a bit more of an investment is worth it when it comes to caring for their most prized family members.
Pampering and luxury are just a couple of things we love about Dogma Grooming Salon & Spa. The duo behind this Main Line groomer, former owner Linda and current owner Stacey, make every person (and pup) feel welcome and pampered.
By focusing on investing in a lifelong relationship with your pup, Stacey makes it clear that luxury, comfort, and specialized attention are the backbone of her business. Offering several packages at various price points and with even more hairstyles to choose from than we ever knew existed, you'll have plenty of options at this local groomer.