If you've ever wanted to try yoga, now is a great time to check out a local yoga studio on the Main Line. Why? Because springtime is about renewal, new beginnings, and growth. And there's no better time than now to invest in yourself. So, try out a new studio, and take a class that could bring all of that into your life. Check out our list of the best yoga studios on the Main Line, PA, now and book a class!
Bulldog Yoga
At bulldog yoga, you have the opportunity to pursue your unique fitness and health goals—that's what the studio is all about! With a friendly environment, and energetic and inspiring music, each class will leave you feeling cared for, relaxed, and at peace.
Book a Class!
Bulldog yoga offers three kinds of classes: Activate, Invigorate, and Exhilarate. There are also "bulldog basic" classes, which are perfect for a newbie or someone who's returning to the practice after a hiatus. Classes are set to great music and provide an energetic and uplifting experience to every yogi.
Dana Hot Yoga
Dana Hot Yoga is a Vinyasa yoga studio that provides a haven for those wanting an intense physical workout with the peace and tranquility offered by yoga. The hot yoga studio will give you a challenging exercise in a heated room so you can sweat it out.
Book a Class!
Hot Vinyasa at Dana Hot Yoga is an excellent all levels offering that's perfect for yogis in every experience level. Beginners and experienced yogis alike will be challenged to hold that pose in a warmed, 95-degree room. Be sure to bring a towel, yoga mat, and water to class.
Sol Yoga Studio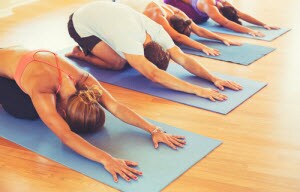 Sol Yoga Studio is more than just a yoga studio; it's a community of fun yogis who are all joining together to share their practice. The studio offers classes for all experience levels, making it an awesome option for those wanting to jump right in.
Book a Class!
Sol to Go is a super cool online offering that makes it easy to practice yoga even if you can't make it to class. Available with a daily, monthly, or annual pass, these recorded online classes make it easy for you to hit the mat even if you're out of town.
Yoga Home
Yoga Home isn't your average yoga studio. Combining the science of yoga, the inspirational power of art, and the holistic nature of community, the studio creates an oasis for those looking for a spiritual home. This Main Line yoga studio is a safe and inclusive space for all who walk in the door.
Book a Class!
Yoga Home offers a ton of different classes for many different types of practice, bodies, and age groups. Whether you're new to yoga or are seasoned in your practice, a Yin yoga class is an excellent way to really dig into each of the poses and find out how your body responds to your practice.