The South Street Spring Festival is a super fun way to get out into the community and experience all that the "City of Brotherly Love" has to offer. Taking place this year during the first weekend of May, you can expect all of the fun, food, and shenanigans this annual event has each year.
Check out our guide to the 2017 South Street Spring Festival in Philadelphia, PA, now to learn more.
The South Street Spring Festival Is Bigger & Better than Ever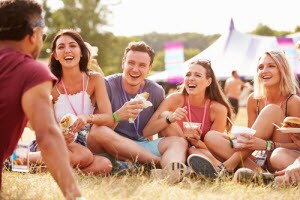 Last year's festival took up a total of nine city blocks, but the 2017 South Street Spring Festival will total a span of 12+ city blocks! The streets will be lined with more than 120 vendors, including over 30 restaurants. You'll be able to shop, eat, and enjoy live entertainment. Bigger and better than ever before, this year's festival will have seven performance areas, including three stages, where 40 bands will perform family-friendly music live for your entertainment.
Food & Fun at South Street Spring Festival
This year's festival is scheduled to include delicious eats from some of your favorite restaurants and local eateries. You'll find treats from food trucks, dessert joints, and more. Here's a short sampling of the 30 participating restaurants:
Primo Hoagies
Whetstone
Rita's Water Ice
Copabanana
Jim's Steaks
Lorenzo and Sons
The festival will also have an all-new Philly taco eating contest, where participants will compete to see who can eat a Philly-flavored taco the fastest. With only 20 contestants, it'll be a race totally worth watching (and joining, if you think you have the stomach to handle it).
South Street Spring Festival Entertainment
With three stages and several more performance areas at this year's festival, you can expect there'll be a ton of incredible entertainment throughout the event. The 2nd Street Plaza will be transformed for the event into a huge open concert area with 1,500 feet of grassy knolls for you to fill with lawn chairs, blankets, beach balls, and fun. The area will be open for games, relaxing, and shopping in the nearby artisan booth setup.
This year's Maifest Street Festival coincides with the South Street Festival, so if you're craving some delicious German food, you can check that out, as well. It'll take place outside of Brauhaus Schmitz on the 700 block of South Street. The restaurant will offer traditional German music, authentic dancers, a huge maypole, and of course, a ton of German beers.
Check Out the 5th Annual South Street Spring Festival This Year!
If you want to enjoy a true sample of Philadelphia culture, stop by the South Street Spring Festival this year. It's free, fun, and full of entertainment that the whole family can enjoy. Check out the official event site to learn more.