Ready to take a bite out of one of the greatest cities in the world? This guide to Philly's Cheesesteak and Food Fest will walk youse all through the awesome activities that'll be going on at this jawn. If you love Philly and food, then this is one festival you won't want to miss.
Over 40 Philly Food Vendors
This is the main event of the festival, but we were too excited to save the best for last. We had to tell you about this right away. You'll find hoagies, water ice, cheesesteaks—if you don't get whiz, you're doing it wrong—and more delicious Philly foods to sample. Is this what heaven is like?
Craft Beer Garden
With all that delicious food to eat, we bet you'll get thirsty. Head to the Craft Beer Garden to grab an ice cold local brew or two to go with your pretzel.
Live Music
Several live performances will take place to entertain you throughout the day, so don't forget to wear comfy shoes so you can dance the day away.
Cheesesteak Eating Competition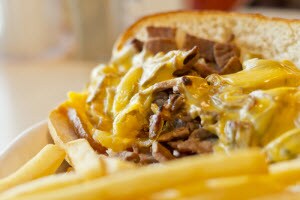 How many cheesesteaks can these guys eat? The answer: a lot. If you think you can scarf down a record number of cheesesteaks, head to the Philly Food Festival website to apply for a spot in the competition. Get ready to stuff your face with deliciousness!
Walk the Bases of Citizens Bank Park
See the home of your beloved Philadelphia Phillies up close and walk the bases of the ballpark for yourself. Even if the Phillies can't get a solid run around the bases this season, you can.
Get Your Ticket!
This event is likely to sell out fast, so grab a ticket while you can. You don't want to miss out on this day of unique Philly fun!