Honestly, it's no surprise that there's been a surge of barbeque joints popping up around the country. Who doesn't love a fall-of-the-bone rack of baby backs slathered in award-winning sauce? Ten years ago, the only place you'd find authentic smoked grub would be in a tiny hole-in-the-wall market in rural Georgia.
But now, you can find the best ribs, brisket, pulled pork, and anything else you can imagine by just walking down the street. So, what does this mean for you?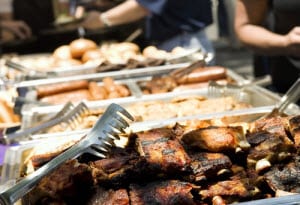 Well, this trend has also made its way to the Main Line, PA. Tons of BBQ hot spots have emerged with platters of pork and beef that'll make you think you're in the deep South. So, buckle up and get ready for a wild ride through Main Line dives that have BBQ so good, it'll make vegetarians want to eat meat again!
Jimmy's BBQ

Located in the center of Malvern, PA, Jimmy's BBQ offers top-notch feastings with tons of selections. Whether you like vinegar-based sauce, or if you're more of a spicy barbeque person, you can coat your food in any number of barbeque sauces at this place.
Each table provides a choice of homemade Vinegar, Sweet & Bold, and Hot sauces to please any kind of smoked-meat lover. Plus, you can also order takeout or have your next party catered by the skilled pit masters at Jimmy's.
Tip: This eatery is a BYOB, but on Wednesdays, a free can of Pabst Blue Ribbon is offered with every order. So, take a mid-week break, and get some awesome grub!
Check out photos of their amazing Memphis dry-rubbed BBQ on their Facebook page!
Mabel's Barbeque

As West Chester's mecca for all things soul food, Mabel's Barbeque provides West Chester University students and locals alike with hearty barbeque. This unassuming roadhouse presents traditional southern selections like hush puppies, fried okra, and corn bread.
And on top of pulled pork, brisket, and ribs, they offer other classics like fried catfish and much more. The fried chicken is also a customer favorite, and you can round out your meal with their huge collection of sides.
Tip: In addition to catering, Mabel's has online ordering and delivery. That way, you can quickly and easily place your order without picking up your phone, and your food will be brought directly to your door.
Take a look at their Facebook page for some customer reviews!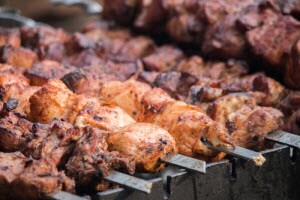 Smokin' John's Barbeque

If you're in the mood for a spot closer to the city, Smokin' John's Barbeque in Manayunk is the place for you. This trendy joint has a full list of hearty bourbons and southern-inspired cocktails. And the smoker is always packed with any kind of meat you can imagine.
Whether you want a sandwich accompanied by a couple of sides, or a platter that puts your barbeque at center stage, you'll find everything you need at this hot spot. They even provide Seitan Ribs for local vegetarians and vegans. That way, you don't have to miss out on a night with your friends just because they're in the mood for barbeque.
Tip: Don't forget about dessert! Smokin' John's has lots of sweet options, like Pie in a Jar and Blondies. Wash it down with a shot of Angel's Envy bourbon, and you have the start to a great night!
Take a gander at their Facebook page for a taste of some of their live music events!