So long Old Man Winter! Spring is in full swing, which means porch beers and outdoor eating. For those of us living on the Main Line in Pennsylvania, there are hundreds of places to choose from for alfresco dining. And so, we took it upon ourselves to narrow it down to our top three favorite Main Line restaurants for outdoor eating.
Nectar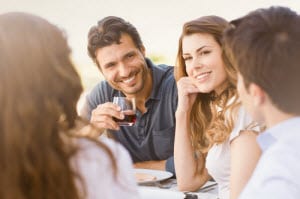 (Berwyn)
Nestled along the Paoli/Thorndale train tracks, you can't get more Main Line than Nectar. This Asian fusion sushi bar is perfect for after work happy hours, a girls' night out, or a first date. Complete with a wide selection of wine and valet parking, Nectar is the perfect suburban escape from busy Philadelphia.
Don't know what to get? Try the seafood bento. This edible masterpiece features several culinary components with thoughtful accompaniments that go way beyond garnish afterthoughts. Plus, you'll get to sample a few of this kitchen's finest creations.
Tango
(Bryn Mawr)
From brunch to happy hour, Tango is a leading spot for outdoor dining on the Main Line. Their festive deck quickly fills up in the warm afternoons as workers from neighboring businesses come to blow off a little steam after a long day at the office. With a long menu of delicious dishes and drinks, we can't say we blame them.
When you go, we recommend trying the jambalaya. It might be a little on the spicy side depending on your taste buds, but it's undeniably delicious to the very last bite.
The Silverspoon
(Wayne)
Dinner at The Silverspoon is lovely, but there's no doubt that brunch is their claim to fame. With a patio dining area and open side to the restaurant providing plenty of air, there's nothing but options when it comes to alfresco dining choices. Plus, their menu is full of farm-fresh, locally sourced meals sure to make your palate do a happy dance.
Want to try this BYOB for brunch? Then, may we suggest the Double Thick French Toast. Featuring country sourdough, whipped butter, and sweet maple syrup, this is one breakfast you won't be able to get enough of.