Driving a faulty or unsafe car on the streets of Devon, West Chester and Wynnewood can disadvantage you severely if you don't take the necessary precautions. This is why the state car inspection rules were put in place.
Part of the job of the Audi Devon team is to make sure that drivers are behind the wheel of the safest cars possible. And a big part of that is providing you with convenient and thorough car inspections.
Do you know what all goes into your state care inspection, or how to prepare for it? If not, you'll want to check out this helpful article.
State Car Inspection Checklist
Most drivers understand that the state car inspection must be performed every 12 months. However, an inspection will also have to be performed if the vehicle is registered under a new name (say, if you've just bought yours used).
During the inspection, an emissions test should be performed as well. A car that's putting out extra pollutants is unsafe for the environment, and a sign that a more serious flaw has developed.
When the time comes, a licensed inspector (and only a licensed inspector), will examine all of the following areas of your vehicle:
Seat Belts

Brakes

Steering, Front End, Suspension, Chassis, Frame, and Wheel Fasteners

Tires

Lights

Mirrors, Windshield (including Wiper Blades), and Windows

Horn

Fuel Leaks
Stay Up to Date on Routine Maintenance
Some drivers might dread state car inspection time, because they know that it's going to end in repairs, some of which may be very costly. However, you can head the majority of these off just by keeping up with your car's maintenance schedule.
A lot of the problems we see at the time of inspection come from skirted routine maintenance. If you give your car the car that it deserves all year long, it should be good to pass with flying colors.
PA Car Inspection
When it comes to the state inspection, all licensed technicians are going by the standards of the state. That means that they're going to go through that entire list, no matter what.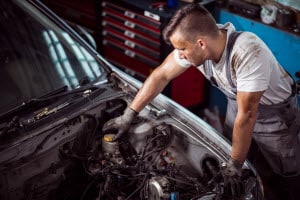 Nevertheless, you'll want to stick with a service center that has a reputation for being thorough and very prompt - one much like ours.
Our technicians have all the knowledge and the tools necessary to complete the job for you. To make your appointment with them, all you've got to do is get in touch online or over the phone.
Is Your Car Inspection Due Soon?
Is that car inspection sticker getting a bit dated? If so, you don't want to wait on it. Schedule you're your inspection as early as possible so that you don't have to rush (or stress).
All Devon, West Chester, and Wynnewood drivers can contact the Audi Devon team today to schedule their appointment!