If you've been considering upgrading your vehicle in Devon, Conshohocken, or Malvern there are a lot of factors that you need to consider. However, perhaps the most import issue is how you'll finance your new car, truck, or SUV. While there are a variety of financing options that you could choose, one of the most versatile and misunderstood is leasing. 
Like most car financing options, leasing provides both advantages and disadvantages. Read about the leasing pros and cons to discover why you should always apply for your auto lease from a trustworthy car dealership.
Advantages of Leasing
Contrary to what many car consumers believe, there are actually a variety of advantages to leasing a car. First, and perhaps most important, choosing a lease means having a much lower monthly payment than you'd receive with a typical car loan. This means you can drive a much more expensive vehicle for a lower price point. Similarly, leasing a car requires a lower down payment, allowing you to get the car you want much sooner.
Another advantage of choosing a lease is that you can drive a brand-new vehicle every few years. Typically, a car lease lasts for 36 months, which means you can get a new vehicle with the latest features every three years. This also means that the amount you'll need to spend on things like oil changes and tire rotations will be much less than with a purchased vehicle.
Convenience is an additional benefit of leasing a vehicle. If your vehicle is in good condition when your lease runs out, you can simply turn in your vehicle to the dealer. This eliminates the paperwork that's involved when you trade or sell a car you've purchased.
Weaknesses of Leasing
Now that you know about the benefits of leasing a vehicle, it's time to learn about a few of the drawbacks so that you can decide if leasing is the right financing option for you.
The biggest negative of leasing a vehicle is that you don't own the car. First, this means that you have no equity to use toward the purchase of a new vehicle in the future. Second, it prevents you from using the car in the same way you would your own, including having to follow mileage restrictions.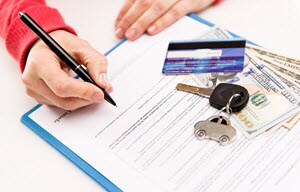 You should also be aware that you may be required to pay penalties for wear and tear on the vehicle when your lease is finished. Also, if you get into a wreck with your leased vehicle and the car is declared a total loss, you may be required to cover the value of the vehicle if you haven't purchased gap insurance.
Discuss the Leasing Pros and Cons with a Professional
If you're having trouble weighing the leasing pros and cons of a vehicle in Conshohocken, Malvern, or Devon, your best solution is to discuss your lease options with the knowledgeable finance department at Audi Devon. A member of the Audi Devon finance team can help you decide whether leasing a car is the right choice for you and can help you apply for a lease with the terms that you need.