When you're searching for a stylish and sporty vehicle, there are lots of components that factor into your final decision. Often, it can be confusing to weigh all the options available to you. When it comes to deciding between a new vs. used car, though, it's easy to get caught up in the long list of advantages that both options present. 
To help you determine which choice is right for you, Audi Devon has created this guide on buying new vs. used cars. That way, drivers of Devon and Malvern will be able to select the Audi that's perfect for you from our massive inventory. Check it out below!
Advantages of Buying a New Car
Customization
When making a commitment to a new vs. used Audi, you'll want to consider how much freedom of choice you want. New vehicles allow for customization and the ability to select which features you want and remove ones that you won't use. Heated front seats, wood inlays, and state-of-the-art sound systems are all items that personalize your new Audi and make it feel like your own.
However, keep in mind that the huge demand for used Audi cars has created a lineup so diverse that you're sure to find the vehicle that's perfect for you.
Audi Resale Value
If you've properly cared for your Audi and plan to resell it, you're likely to see a great return for your vehicle. Since Audi automobiles are some of the most reliable vehicles on the road, the demand for them is very high, which means you'll get more bang for your buck when you're ready to trade in for the year's latest model.
Vehicle Upkeep
After buying a new car, vehicle repairs and maintenance are often infrequent. Since the car is new, there won't be any wear on the engine or brakes that would equate to expensive servicing needs.
Again, if you're thinking about a used car that's only a few model years old or is certified, you likely won't have to worry about numerous visits to the mechanic.
Shop our new Audi inventory here.
Benefits of Buying Used
Updated Features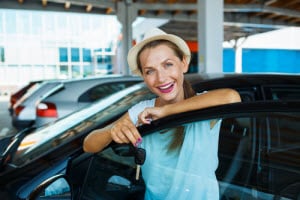 Due to the leaps and bounds made in safety technologies over the past decade, many of the recent models on the market are outfitted with any advanced amenity you need. For example, some used Audi vehicles contain the option of MMI® Navigation, which includes a convenient touch pad and voice command capabilities. With this level of sophisticated technology, you'll think that you're sitting behind the wheel of an Audi fresh off the assembly line.
Additionally, used vehicles offer choices to drivers who want a certain feature that's no longer available in current models. That means you can have all the devices you need without having to pay the price of a new car.
Depreciation
Once you drive a new automobile away from the dealership, the vehicle begins losing value. Even if your car is in pristine shape when you're ready to trade in, the idea that it's been on the road for a certain number of years brings its worth down from a financial standpoint.
By opting for a used or certified pre-owned car, the previous owner has already dealt with the depreciation of the vehicle. This means that you can save huge on a vehicle that's in great condition. On top of that, the trustworthiness of a used Audi ensures that your car will be sturdy and strong for years to come. 
Affordability 
There's no question that used vehicles are less expensive than their new counterparts. By choosing a used Audi, you're getting the same ground-breaking luxury that's found in all Audi vehicles. That way, you don't have to compromise on performance to stay within your budget.
Although every Audi vehicle leads the pack in dependability, you can get an even greater piece of mind by choosing a vehicle from our pre-owned lineup. With a seal from the manufacturer and an extensive inspection, you'll feel confident that you've attained a quality car.
Shop our used Audi vehicles here.
Buying New vs Used: Test Drive Either Today!
Now that you've had the opportunity to review the advantages of buying a new vs. used car, you're ready to select your favorite Audi from the comprehensive collection at Audi Devon. By supplying drivers of Devon and Malvern with class-leading gadgets and impressive powertrains, you'll always be happy when driving away in your new Audi. Stop by for a test drive today!