So, you want to trade in your car and upgrade your ride. How do you do it? Our team at Audi Devon is here with a convenient vehicle trade-in checklist to guide you forward.
If you call Devon, Malvern, or Phoenixville, PA, home, feel free to contact us with any additional questions you might have. You can also schedule an appointment to trade in your vehicle today!
What Impacts the Trade-In Value of My Vehicle?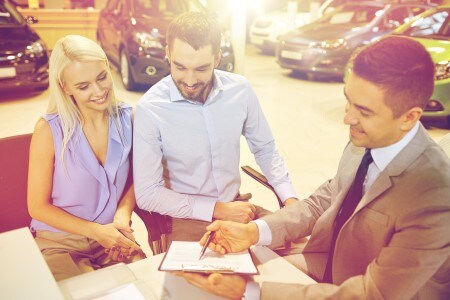 A variety of factors impact the value of your vehicle as a trade-in. A few of these include
 market demand, the make, the model, the current mileage, the year, and its condition.
For your convenience, we have a tool you can use to view the Kelley Blue Book® value of your trade-in online. With this information in hand, you'll have a better sense of what you can expect to get for your vehicle.
When you trade in your car, its value is deducted from your next vehicle purchase. If you plan to finance, this will reduce the amount you need to take out with an auto loan and therefore lessen your monthly payments.
Steps for Trading In Your Car
Trading in your car is the simplest, most straightforward way to get rid of your current set of wheels and slide into the driver's seat of your next model.
Now, let's look at the steps involved in a vehicle trade-in:
Get Up to Date on Maintenance
One way to increase the value of your trade-in is by being current on the recommended maintenance, such as oil changes and tire rotations. If your vehicle needs a minor repair, consider having it done, to get a higher offer on your trade-in at the dealership.
Fix Any Scratches & Dents
Similarly, the way your car looks will impact its value. If your vehicle has any scratches or dents, it's a good idea to have auto body work done before you trade it in.
Detail the Exterior & the Interior
After you've gotten up to speed on everything mechanical- and cosmetic-related, you'll want to clean the vehicle inside and out to make sure it looks its best. You can either take care of this at home or pay a professional to do it for you. Don't forget to remove all your personal belongings from both the cabin and the trunk!
Gather Documentation & Keys
The last thing to do is to gather all the documentation related to your car. This includes routine service records and repair receipts. By showing that you kept up with the automotive maintenance, you demonstrate the reliable condition of the vehicle.
Along with that, be sure you have the following documents with you before driving to the dealership:
Title
Registration
Proof of auto insurance
Owner's manual
Grab any extra sets of keys and then head out to the dealership to trade in your car.
Drive to the Dealership 
When you arrive, let an associate know you want to trade in your car. They'll appraise the vehicle for you and handle all the paperwork. To speed up the process, you can explore our inventory and apply for financing online before your visit. That way, you can already know which vehicle you want to drive off the lot.
Trade In Your Vehicle Today
All of us here at Audi Devon hope you have found this vehicle trade-in checklist helpful. If you have any further questions, don't hesitate to contact us.
Otherwise, visit us to trade in your car near Devon, Malvern, and Phoenixville, Pennsylvania, today!